Malaria
What is malaria?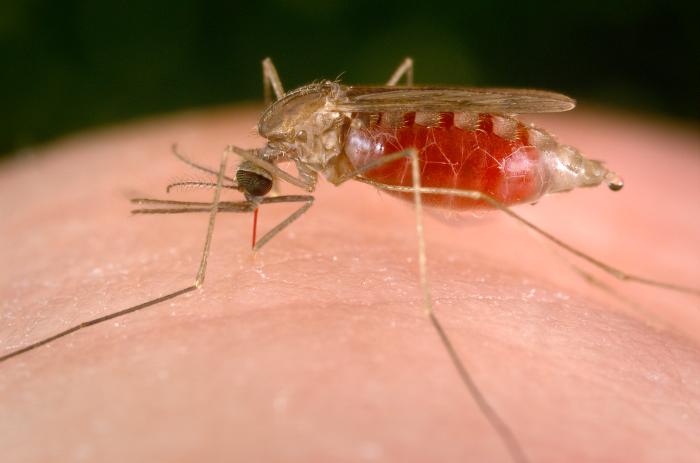 Malaria is a disease caused by a parasite. Mosquitoes spread the parasite to people.
Malaria symptoms usually appear within in 7 to 30 days but can take up to one year to develop. Symptoms may include high fevers and shaking chills, flu-like illness. Without treatment, malaria can cause severe illness and death.
Who is at risk?
The mosquitoes that spread malaria are found in Africa, Central and South America, parts of the Caribbean, Asia, Eastern Europe, and the South Pacific (See maps: Eastern Hemisphere and Western Hemisphere). Travelers going to these countries may get bit by mosquitoes and get infected.
About 2,000 cases of malaria are diagnosed in the United States annually, mostly among returned travelers.
What can travelers do to prevent malaria?
Travelers can protect themselves from malaria by taking prescription medicine and preventing mosquito bites. There is no malaria vaccine.
Take Malaria Medicine
Check your destination to see if you should take prescription malaria medication. Depending on the medicine you take, you will need to start taking this medicine multiple days before your trip, as well as during and after your trip. Talk to your doctor about which medicine you should take.
Travelers should also take steps to prevent mosquito bites:
If you are bitten by mosquitoes, avoid scratching mosquito bites and apply hydrocortisone cream or calamine lotion to reduce itching.

If you traveled and feel sick, particularly if you have a fever, talk to a healthcare provider, and tell them about your travel. Avoid contact with other people while you are sick.
If you need medical care abroad, see Getting Health Care During Travel.
Traveler Information
Clinician Information
---
Page last reviewed:
May 04, 2020