Ross River virus disease
What is Ross River virus disease?
Ross River virus disease (RRVD) is spread through mosquito bites. About 55%–75% of people who are infected do not feel sick. For those who do feel sick, symptoms of RRVD include joint pain and swelling, muscle pain, fever, tiredness, and rash. Most patients recover within a few weeks, but some people experience joint pain, joint stiffness, or tiredness for many months.
Who is at risk?
Travelers who go to Australia and Papua New Guinea are at risk for RRVD. Travelers who plan to spend a lot of time outdoors or who will be in areas with a lot of mosquitoes are at increased risk of RRVD. Disease risk is lower during the colder winter months. Ross River virus infection is the most common mosquito-related infection in Australia.
What can travelers do to prevent RRVD?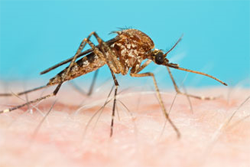 No vaccine or medicine can prevent RRVD. The only way to prevent RRVD is to prevent mosquito bites.
If you feel sick and think you may have RRVD:
Traveler Information
Clinician Information