Global Polio
Warning - Level 3, Avoid Nonessential Travel
Alert - Level 2, Practice Enhanced Precautions
Watch - Level 1, Practice Usual Precautions
Key points
Some international destinations have circulating poliovirus (listed below and shown in map).
Before any international travel, make sure you are up to date on your polio vaccines.
Before travel to any destination listed below, CDC recommends that adults who previously completed the full, routine polio vaccine series receive a single, lifetime booster dose of polio vaccine.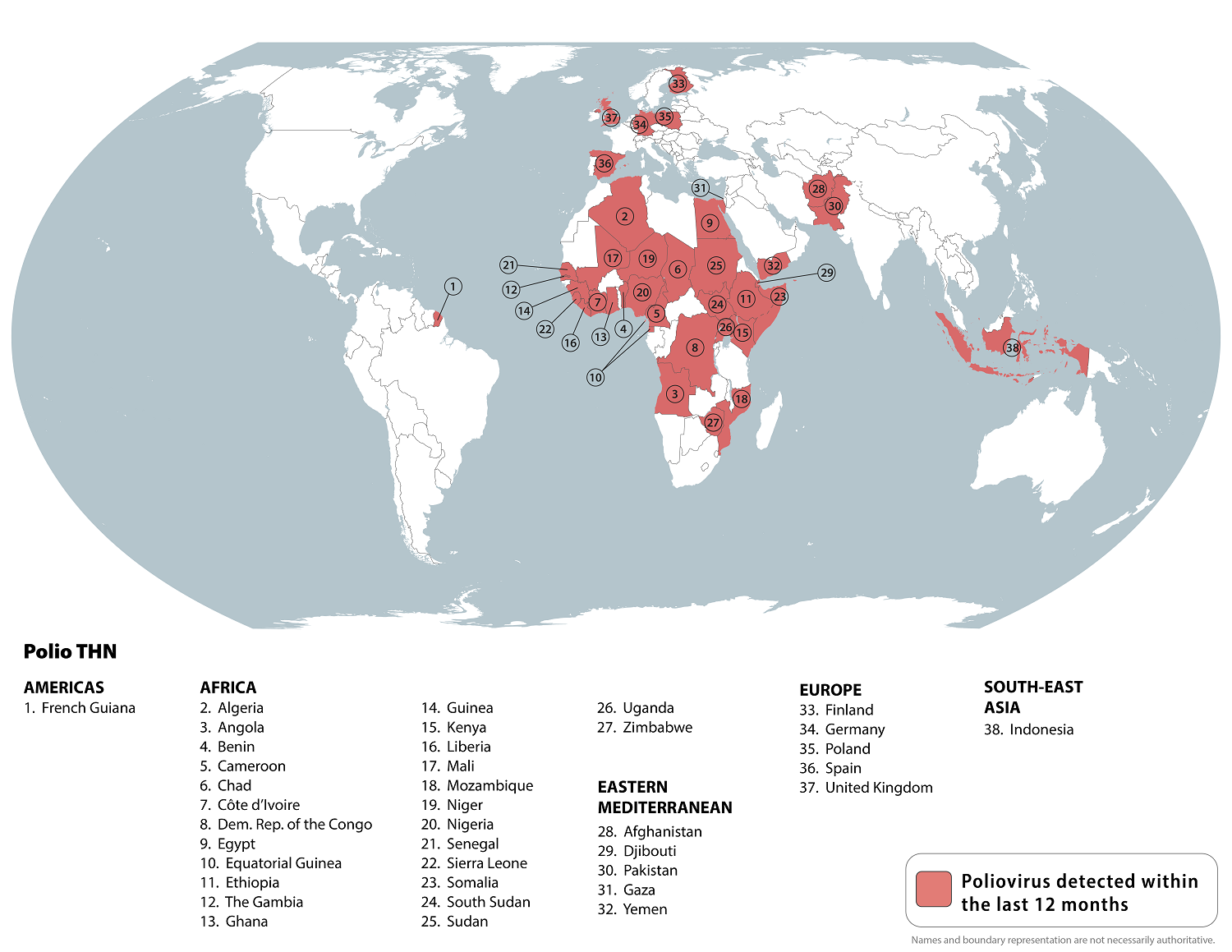 What is the current situation?
The following destinations have circulating poliovirus (see map):
Afghanistan
Algeria
Benin
Burkina Faso
Cameroon
Central African Republic
Chad
Côte d'Ivoire
Democratic Republic of the Congo
Djibouti
Egypt (healthcare facilities, refugee camps, and humanitarian aid settings only)
Eritrea
Ethiopia
Gambia
Ghana
Guinea
Guinea-Bissau
Israel
Liberia
Madagascar
Malawi
Mauritania
Mozambique
Niger
Nigeria
Pakistan
Senegal
Sierra Leone
Somalia
Togo
Uganda
Ukraine
United Kingdom
Yemen
What can travelers do to prevent polio?
Get the polio vaccine
Children should be up to date on their routine polio vaccines.
Adult travelers should get an inactivated polio vaccine booster if they:
are going to a destination that has circulating poliovirus;
have completed their routine polio vaccine series; and
have not already received one adult booster dose.
Clinician Information
Ensure that anyone unvaccinated, incompletely vaccinated, or with an unknown polio vaccination status completes the routine polio vaccine series before international travel.
Additional Information
Traveler Information
---
Page last reviewed:
September 26, 2022