Plague in Madagascar
Warning - Level 3, Avoid Nonessential Travel
Alert - Level 2, Practice Enhanced Precautions
Watch - Level 1, Practice Usual Precautions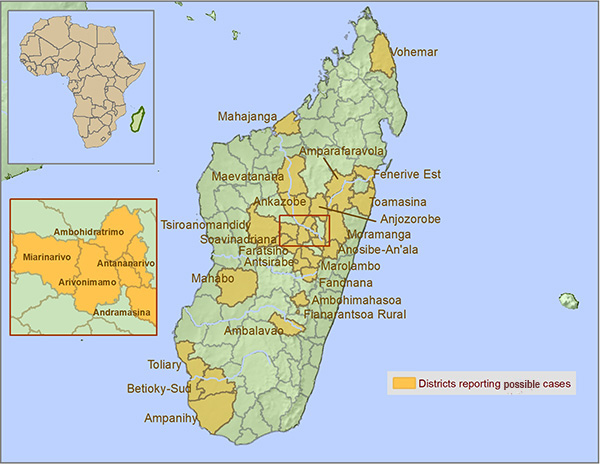 What is the current situation?
From August 23 through October 12, 2017, the World Health Organization has reported 684 cases of plague in Madagascar; nearly 10% of those infected have died. Although bubonic plague occurs nearly every year in Madagascar, an unusual outbreak of plague pneumonia is occurring in geographically widespread areas, including in heavily populated cities of Antananarivo (the capital city and its suburbs) and Toamasina.* New cases continue to be reported; as of October 12, a total of 474 of the cases are plague pneumonia (which can be spread from person to person), 156 are bubonic plague (which is spread through flea bites), 1 is a bloodstream infection, and the remainder are unknown.
In response to the outbreak, the local government is working to control fleas and is canceling mass gatherings because plague pneumonia can be spread from person to person in close contact.
What is plague?
Plague is a bacterial infection that is usually spread through bites by infected fleas. When acquired by flea bite, plague has symptoms of high fever and swollen and tender lymph nodes (bubonic plague) that occur 2–6 days after the bite. If it is not treated, the infection can spread to the lungs and cause pneumonia. In rare but serious cases, a person with plague pneumonia can spread the infection directly to others by coughing the plague bacteria into the air (more information). The current outbreak is unusual in that most cases are plague pneumonia. Plague can be treated with antibiotics; however, without prompt treatment, plague can cause serious illness or death.
How can travelers protect themselves?
Based on available information, the risk to travelers appears to be very low; however, travelers have been infected, and one died. Travelers to Madagascar should use insect repellent to prevent flea bites and avoid close contact with sick or dead animals. Travelers should also avoid close contact with ill people, especially those with cough or pneumonia.
No vaccine is available to prevent plague. Plague can be prevented with antibiotics. Travelers who have had close contact with people with plague pneumonia or other high-risk exposures should immediately notify a health care provider. They may need to take antibiotics to prevent plague. During or after travel to Madagascar, travelers should be alert for symptoms of plague, and if they appear, seek medical care and inform the provider about their travel to Madagascar.
Learn more about plague, how to prevent it, and what to do if you think you are infected at CDC's plague page for travelers.
Traveler Information
Clinician Information
Plague (CDC Health Information for International Travel)
*The most affected districts and cities include Antananarivo (the capital city and its suburbs), Toamasina, and the rural district of Faratsiho. Cases have also been reported in Ambalavo, Ambatondrazaka, Ambohidratrimo, Ambohimahasoa, Ampanihy, Amparafaravola, Andramasina, Anjozorobe, Ankazobe, Anosibe An'ala, Anta-Atsimondrano, Anta-Avaradrano, Antanifotsy, Anta-Renivohitra, Antsirabe I, Arivonimamo, Fandriana, Faratsiho, Fenerive Est, Fianarantsoa I, Lalangina, Maevatanana, Mahabo, Mahajanga I, Miarinarivo, Moramanga, Soavinandriana, Toamasina I, Toamasina II, Toliara I, Tsiroanomandidy, Vohibato, and Vohémar.
Page created:

October 06, 2017

Page last updated:

October 16, 2017

Page last reviewed:

October 16, 2017

Content source: