Polio in Asia
Warning - Level 3, Avoid Nonessential Travel
Alert - Level 2, Practice Enhanced Precautions
Watch - Level 1, Practice Usual Precautions
As the COVID-19 situation around the world changes, CDC is monitoring COVID-19 risk in each country and making travel recommendations. If you are considering international travel, see CDC's COVID-19 Travel Recommendations by Destination.
Key points
There are polio outbreaks in several countries in Asia.
CDC recommends that all travelers to these countries be vaccinated fully against polio.
Before traveling to these countries, adults who completed their routine polio vaccine series as children should receive a single, lifetime adult booster dose of polio vaccine.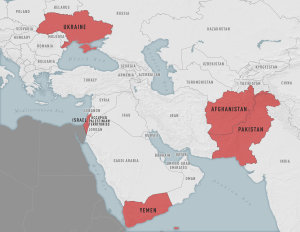 What is polio?
Polio is a crippling and potentially deadly disease that affects the nervous system. Good hand washing practices can help prevent the spread of this disease. Because the virus lives in the feces (poop) of an infected person, people infected with the virus can spread it to others when they do not wash their hands well after defecating (pooping). People can also be infected if they drink water or eat food contaminated with infected feces.
Most people with polio do not feel sick. Some people have only minor symptoms, such as fever, tiredness, nausea, headache, nasal congestion, sore throat, cough, stiffness in the neck and back, or pain in the arms and legs. In rare cases, polio infection causes permanent loss of muscle function (paralysis). Polio can be fatal if the muscles used for breathing are paralyzed or if there is an infection of the brain.
What is the current situation?
Polio outbreaks have been reported in the following Asian countries (map):
Afghanistan
Malaysia
Pakistan
The Philippines
Tajikistan
Yemen
The World Health Organization recommends that these countries require residents and long-term (4 weeks or more) visitors show proof of polio vaccination before leaving the country (See: WHO Statement of the Twenty-Seventh IHR Emergency Committee Regarding the International Spread of Poliovirus).
What can travelers do to prevent polio?
Get the polio vaccine. CDC recommends that all travelers to the countries listed above be vaccinated fully against polio. Adults who were fully vaccinated during childhood should receive an additional (single) lifetime booster dose of polio vaccine. Even if you were vaccinated as a child or have been sick with polio before, you may need a booster dose to make sure you are protected. See the Polio Vaccine Information Statement (VIS) for more information.
Clinician Information
For travelers going to countries with circulating poliovirus who have completed their routine polio vaccine series but who have not already received an adult booster dose, CDC recommends administering an inactivated poliovirus vaccine (IPV) booster dose.
See the Vaccine section in Chapter 4, Poliomyelitis, CDC Yellow Book, for specific vaccination details.
Additional Information
Traveler Information
This notice was originally posted December 11, 2019.
---
Page last reviewed:
March 04, 2021