Earthquake in Southeastern Turkey and Northwestern Syria
Warning - Level 3, Avoid Nonessential Travel
Alert - Level 2, Practice Enhanced Precautions
Watch - Level 1, Practice Usual Precautions
Key points
Travelers should avoid nonessential travel to southeastern Turkey and northwestern Syria.
On February 6, 2022, a 7.8 magnitude earthquake occurred in southeastern Turkey and northwestern Syria.
The earthquake impacted infrastructure in both countries, limiting access to electricity, drinking water, and food supplies.
The US Embassy in Turkey issued an alert on February 6 advising US citizens to follow safety guidelines and contact local government disaster management organizations for assistance. Medical care may be limited or unavailable.
Humanitarian aid workers who must travel to the affected region should be aware that there is a cholera outbreak in Syria. Cholera in travelers is rare but can occur where there is limited access to safe food and water. To prevent cholera, travelers should follow safe food and water guidelines and wash their hands.
If you must travel to southeastern Turkey or northwestern Syria, take steps to protect yourself.
Before travel
Check the US Department of State website.
During travel
If you get sick during or after travel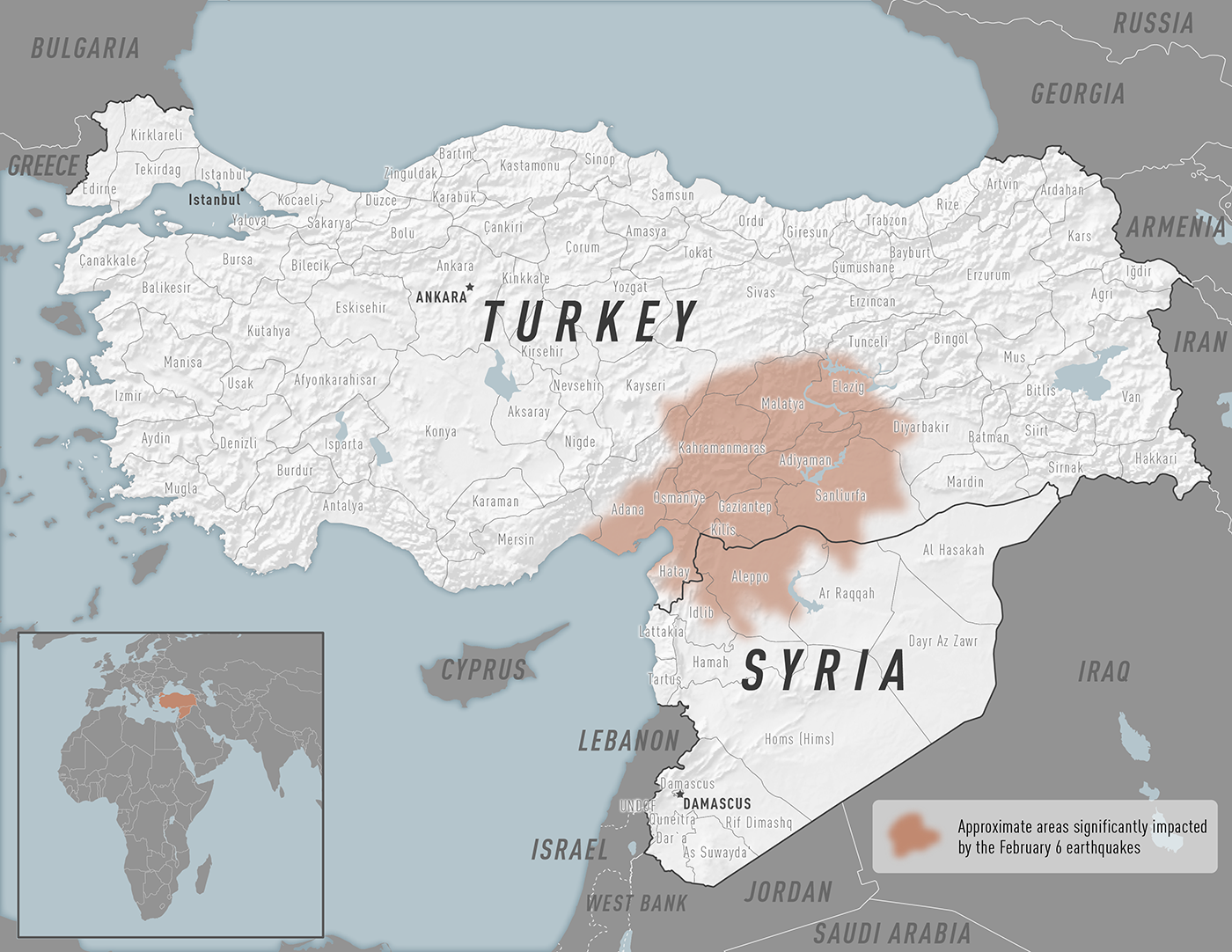 Earthquakes
An earthquake is the sudden, rapid shaking of the ground caused by the shifting of rocks underneath Earth's surface.
Earthquakes can cause damaged buildings, damaged power lines, leaking gas lines, and other hazards. Smaller earthquakes (aftershocks) may follow the initial earthquake.
Serious health concerns after an earthquake include injuries from collapsed structures and debris, carbon monoxide poisoning, and infectious diseases.
---
Page last reviewed:
February 09, 2023