Ebola in Guinea
Warning - Level 3, Avoid Nonessential Travel
Alert - Level 2, Practice Enhanced Precautions
Watch - Level 1, Practice Usual Precautions
As the COVID-19 situation around the world changes, CDC is monitoring COVID-19 risk in each country and making travel recommendations. If you are considering international travel, see CDC's COVID-19 Travel Recommendations by Destination.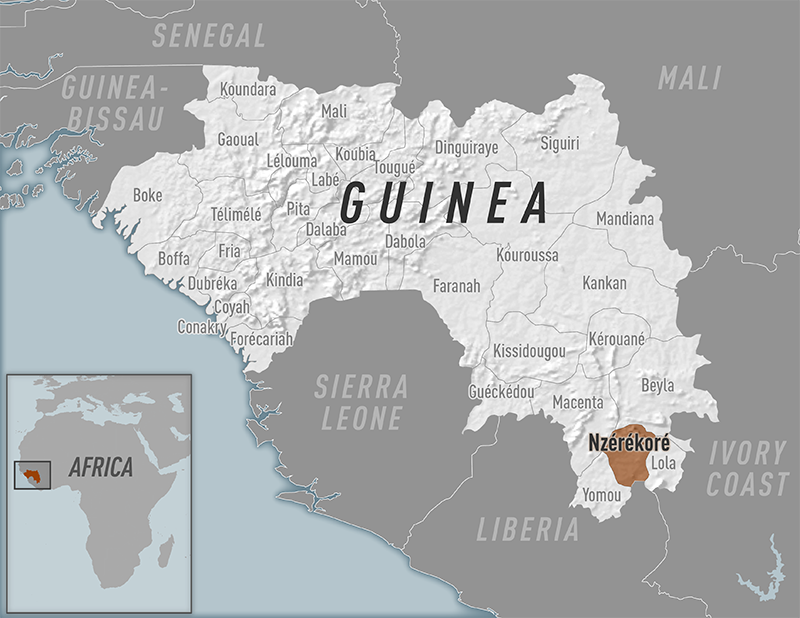 Key points
There is an outbreak of Ebola in N'Zérékoré Prefecture of Guinea.
Travelers to this area could be infected with Ebola if they come in contact with an infected person's blood or other body fluids.
Travelers should seek medical care immediately if they develop fever, muscle pain, sore throat, diarrhea, weakness, vomiting, stomach pain, or unexplained bleeding or bruising during or after travel.
CDC has recommendations to help ensure workers with potential occupational exposure to Ebola are healthy when they return to the United States.
Due to the current Ebola outbreaks, CDC has issued an order requiring airlines to collect and provide CDC with contact information for passengers who were in the Democratic Republic of the Congo or Republic of Guinea within the 21 days before arriving in the United States. Public health officials at your U.S. destination may contact you for health monitoring or other public health follow-up. Learn more about this order.
What is the current situation?
On February 14, 2021, health authorities in Guinea declared an outbreak of Ebola in the rural community of Gouéké, N'Zérékoré Prefecture.
The World Health Organization (WHO) and public health partners are working to increase surveillance, infection prevention and control, and outreach to local communities. WHO is helping Guinea obtain supplies of Ebola vaccine. WHO is also working with health authorities in bordering countries (Liberia and Sierra Leone) to strengthen their community surveillance for Ebola.
For the latest information on this outbreak, including updates on numbers of cases and deaths, see the WHO Regional Office for Africa page.
What is Ebola?
Ebola virus disease (also known as Ebola hemorrhagic fever) is a rare and deadly disease that periodically causes outbreaks in several African countries. It is spread by contact with blood or body fluids of a person infected with Ebola virus. It is also spread by contact with contaminated objects or infected animals.
Symptoms include fever, headache, muscle pain, weakness, diarrhea, vomiting, stomach pain, and unexplained bleeding or bruising.
Who is at risk?
The risk of Ebola infection for most travelers to Guinea is low. Only those going to the outbreak area or who have contact with a person with Ebola are at risk. Travelers could become infected if they come in contact with blood or body fluids from an infected person. Family and friends caring for people with Ebola and health care workers who do not use correct infection control precautions are at higher risk.
What steps can travelers take to protect themselves and others from Ebola?
Avoid touching, handling, or contact with

Other people's blood or body fluids. (See the section below for special precautions if your work puts you at risk for exposure to Ebola.)
Items that may have come in contact with a person's blood or body fluids (such as clothes, bedding, needles, or medical equipment).
Bats and nonhuman primates or the blood, fluids, and raw meat of these animals (bushmeat) or meat from an unknown source.

Although the risk for Ebola is low for most travelers to Guinea, the risk of exposure to other diseases, including yellow fever, malaria, polio, hepatitis, rabies, meningitis and measles remains high. Before you leave for Guinea, see a travel medicine provider:

During your time in Guinea:

After returning:

Finish taking medicine to prevent malaria.
Seek medical care if you become ill during travel or after you get home.
Call ahead and tell the doctor where you traveled.

Avoid participating in funeral or burial rituals that require handling human remains.
Wash your hands often or use hand sanitizer, and avoid touching your eyes, nose, and mouth.
If your job requires possible exposure to Ebola, get vaccinated.

On January 8, 2021, the Advisory Committee on Immunization Practices (ACIP) recommended pre-exposure prophylaxis vaccination with rVSVΔG-ZEBOV-GP (Ervebo™) for adults ≥ 18 years of age in the U.S. population at highest risk for potential occupational exposure to Ebola virus species Zaire ebolavirus. These include personnel responding to (or planning to respond to) Ebola outbreaks.
A single dose of rVSVΔG-ZEBOV-GP is safe and protects against Zaire ebolavirus, which has caused the largest and most deadly Ebola outbreaks to date.
For prescribing information and detailed instructions on how to order rVSVΔG-ZEBOV-GP vaccine from the CDC, see Ebola Vaccine: Information for U.S. Healthcare Providers.

Consider travel health and medical evacuation insurance coverage.

If you are traveling for work, have information about your employer's plan for medical care or evacuation during your trip.

Register with the US Department of State. If you are a US citizen, enroll online in the Smart Traveler Enrollment Program (STEP) to receive security updates and information about getting help in the event of an emergency.
For travelers to the outbreak area, pay attention to your health during travel and for 21 days after you leave the outbreak area.
If you have been in an area where Ebola is spreading and develop fever or other signs and symptoms of Ebola:

Separate yourself from others (isolate)
Call your local health department immediately and tell health officials about your recent travel and your symptoms. The health department will tell you where you should go for medical care. The health department will also help the facility prepare to provide care for you, while also protecting other people who may be in the office or hospital.
If you need help getting health care overseas, contact the nearest US embassy.
If you are in Guinea for work and become ill, contact your employer or sponsoring organization.
Do not travel until cleared by health officials.

If you think you have been exposed to Ebola:

Contact the nearest US embassy (for US citizens overseas) or local health officials immediately. If you are in Guinea for work, also contact your employer or sponsoring organization.
Do not travel until cleared by health officials.
What should travelers be aware of when leaving the outbreak area in Guinea?
Travelers who may have been exposed to Ebola or who become sick during or after travel should postpone further travel and get immediate medical attention. Any person with possible exposure or Ebola-like symptoms will not be allowed to travel unless it is part of a coordinated medical evacuation.
Travelers leaving the outbreak area may be subject to travel restrictions or health monitoring by ministries of health in other countries and should check in advance for any requirements
Special recommendations for health care workers and Ebola response workers in the outbreak area
If your work (such as general health care in a hospital, Ebola treatment unit work, burial work, or laboratory work in the outbreak area, puts you at risk of exposure to Ebola you should:
Upon returning to the United States, notify your health care facility's infection control or occupational health professional of your recent travel and self-monitoring activities (if you will be caring for patients in a US health care facility during your 21-day self-monitoring period).
CDC has published special recommendations for organizations sending workers to the outbreak area.
Traveler Information
Clinician Information
---
Page last reviewed:
March 12, 2021