Ebola in Guinea
Warning - Level 3, Avoid Nonessential Travel
Alert - Level 2, Practice Enhanced Precautions
Watch - Level 1, Practice Usual Precautions
As the COVID-19 situation around the world changes, CDC is monitoring COVID-19 risk in each country and making travel recommendations. If you are considering international travel, see CDC's COVID-19 Travel Recommendations by Destination.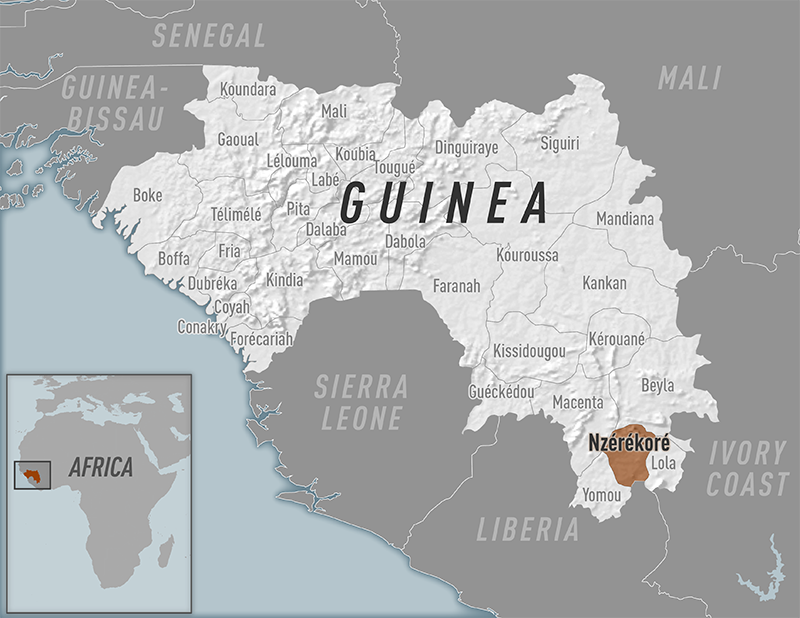 Key points
What is the current situation?
On February 14, 2021, health authorities in Guinea declared an outbreak of Ebola in the rural community of Gouéké, N'Zérékoré Prefecture.
The World Health Organization (WHO) and public health partners are working to increase surveillance, infection prevention and control, and outreach to local communities. WHO is helping Guinea obtain supplies of Ebola vaccine. WHO is also working with health authorities in bordering countries (Liberia and Sierra Leone) to strengthen their community surveillance for Ebola.
For the latest information on this outbreak, including updates on numbers of cases and deaths, see the WHO Regional Office for Africa page.
What is Ebola?
Ebola virus disease (also known as Ebola hemorrhagic fever) is a rare and deadly disease that periodically causes outbreaks in several African countries. It is spread by contact with blood or body fluids of a person infected with Ebola virus. It is also spread by contact with contaminated objects or infected animals.
Symptoms include fever, headache, muscle pain, weakness, diarrhea, vomiting, stomach pain, and unexplained bleeding or bruising.
Who is at risk?
The risk of Ebola infection for most travelers to Guinea is low. Only those going to the outbreak area or who have contact with a person with Ebola are at risk. Travelers could become infected if they come in contact with blood or body fluids from an infected person. Family and friends caring for people with Ebola and health care workers who do not use correct infection control precautions are at higher risk.
What steps can travelers take to protect themselves and others from Ebola?
What should travelers be aware of when leaving the outbreak area in Guinea?
Travelers who may have been exposed to Ebola or who become sick during or after travel should postpone further travel and get immediate medical attention. Any person with possible exposure or Ebola-like symptoms will not be allowed to travel unless it is part of a coordinated medical evacuation.
Travelers leaving the outbreak area may be subject to travel restrictions or health monitoring by ministries of health in other countries and should check in advance for any requirements
Special recommendations for health care workers and Ebola response workers in the outbreak area
If your work (such as general health care in a hospital, Ebola treatment unit work, burial work, or laboratory work in the outbreak area, puts you at risk of exposure to Ebola you should:
Upon returning to the United States, notify your health care facility's infection control or occupational health professional of your recent travel and self-monitoring activities (if you will be caring for patients in a US health care facility during your 21-day self-monitoring period).
CDC has published special recommendations for organizations sending workers to the outbreak area.
Traveler Information
Clinician Information
---
Page last reviewed:
March 12, 2021