Volcanic Eruption in La Palma, Canary Islands
Warning - Level 3, Avoid Nonessential Travel
Alert - Level 2, Practice Enhanced Precautions
Watch - Level 1, Practice Usual Precautions
As the COVID-19 situation around the world changes, CDC is monitoring COVID-19 risk in each country and making travel recommendations. If you are considering international travel, see CDC's COVID-19 Travel Recommendations by Destination.
Key points
Travelers should avoid all nonessential travel to La Palma, Canary Islands.
On September 19, 2021, Cumbre Vieja, a volcano in La Palma, Canary Islands, erupted.
The lava has caused significant damage on the island, and many thousands of people have been displaced.
There is ongoing risk of further volcanic eruptions, earthquakes, and toxic explosions.
If you must travel to La Palma, obey all instructions from local authorities.
The U.S. Embassy in Spain and Andorra has issued a message to US citizens, advising U.S. citizens in La Palma to avoid affected areas and monitor local news media and government websites for official orders and precautions. Check the U.S. Embassy in Spain and Andorra Alerts and Messages webpage for the latest information.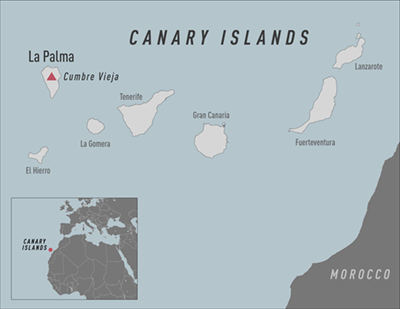 Volcanic Eruption Dangers
Volcanoes can produce ash, toxic gases, lava flows, flash floods of hot water, and fast-moving flows of hot gases and debris. When a volcano erupts, some dangers can occur with little or no notice.
Volcanic eruptions can result in additional threats, including mudslides, power outages, contamination of water sources, and wildfires.
Serious health concerns after a volcanic eruption include respiratory illnesses, suffocation, burns, injuries from ashfall and collapsed structures, infectious diseases, and vehicle accidents related to the conditions caused by ash.
If you must travel, take steps to protect yourself.
Before Travel
During Travel
If you get sick during or after travel
If you feel sick during or after travel, seek medical care immediately and tell your healthcare provider about your activities during your trip, including contact with volcanic ash.
Traveler Information
Clinician Information
---
Page last reviewed:
October 01, 2021