Volcanic Eruption in St. Vincent & the Grenadines
Warning - Level 3, Avoid Nonessential Travel
Alert - Level 2, Practice Enhanced Precautions
Watch - Level 1, Practice Usual Precautions
As the COVID-19 situation around the world changes, CDC is monitoring COVID-19 risk in each country and making travel recommendations. If you are considering international travel, see CDC's COVID-19 Travel Recommendations by Destination.
Key points
A volcano erupted on the Caribbean island of St. Vincent (April 9 and April 12, 2021).
Approximately two-thirds of the island is covered in a thick layer of ash.
On April 8, 2021, the Prime Minister issued an Evacuation Alert for all premises in areas designated as very high hazard Red Zones.
If you must travel to St. Vincent & the Grenadines, pay attention to local reports about air and drinking water quality and dangerous road conditions. Obey all instructions from local authorities.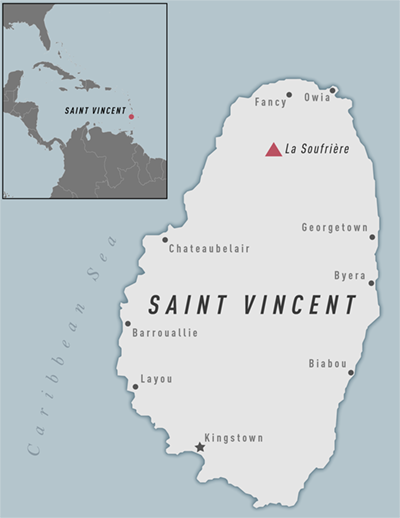 Volcanic Eruption Dangers
Volcanoes can produce ash, toxic gases, lava flows, flash floods of hot water, and fast-moving flows of hot gases and debris. Some dangers from volcano eruptions can occur with little or no notice.
Volcanic eruptions can result in additional threats, including mudslides, power outages, contamination of tap water, and wildfires.
Health concerns after a volcanic eruption include infectious disease, respiratory illness, burns, injuries from falls, and vehicle accidents related to the. conditions caused by ash. The most common cause of death from a volcano is suffocation.
What is the current situation?
On April 9, 2021, La Soufrière volcano erupted on the main island of St. Vincent. Three days later, a second larger eruption released large amounts of hot ash, lava, and toxic gas. The eruptions have led to shortages of essential goods and services including clean drinking water, sanitation, food, electricity, transportation, shelter, and medical care.
St. Vincent's National Emergency Management Organization (NEMO) has activated the National Emergency Operations Centre to provide regular updates to the public. NEMO activated temporary shelters in other areas of the island to provide relief to evacuees.
CDC recommends that US residents avoid nonessential travel to St. Vincent and the Grenadines. The US Embassy in Barbados, the Eastern Caribbean, and the Organization of Eastern Caribbean States issued a natural disaster alert on April 9, 2021, advising US citizens to follow local guidance and evacuate from the Red Zones in the Northeast and Northwest of St. Vincent. Medical care may be limited or unavailable. This Travel Health Notice will be updated as information becomes available.
How can travelers who must travel protect themselves?
Before Travel
Check the current CDC COVID-19 travel recommendations by destination.
Check the US Department of State website.
Make an appointment with a travel medicine specialist or your healthcare provider to get needed vaccines and medicines. CDC recommends all travelers be up to date on all recommended vaccines, such as the diphtheria, tetanus, and pertussis (DTaP), and measles, mumps, and rubella (MMR) vaccine.
Pack a travel health kit with prescription medicines and over-the-counter medicines (enough to last the whole trip, plus a little extra), first aid supplies, and health insurance card.
Authorized emergency responders and humanitarian aid workers may need to pack additional items.
Leave copies of your itinerary, contact information, credit cards, and passport with someone at home in case they are lost during travel.
Buy travel health and medical evacuation insurance. If you are injured or get sick during your trip, medical care may be unavailable.
Prepare for the unexpected.
During Travel
Take the following protective actions after a volcanic eruption
Pay attention to warnings and obey instructions from local authorities. Listen to local news updates for information about air and drinking water quality, dangerous road conditions, and other health threats.
Avoid contact with ash as much as possible. Exposure to ash can be harmful. When ash gets into your lungs and airways, it can make it hard to breathe. It can also irritate your skin and eyes.

Turn off heating and air conditioning units and fans. Close windows, doors, and fireplace and woodstove dampers to help keep ash and gases from getting into living spaces.
For protection when outdoors or cleaning up ash

Consider wearing a disposable particulate respirator (also known as an "air purifying respirator")
Keep skin covered
Wear goggles to protect eyes

Do not drive unless absolutely necessary. Driving in ash is hazardous. It can also damage engines and make vehicles stall.
Drink bottled water unless tap water has been tested to make sure it is safe to drink.
Carefully clear ash off roofs or seek alternative shelter. Ash is very heavy and can cause buildings to collapse. Be very cautious when working on a roof. Ash can be slippery and lead to falls.
If you get sick during or after travel
Traveler Information
Clinician Information
---
Page last reviewed:
June 30, 2021