Leishmaniasis in Chad
Warning - Level 3, Avoid Nonessential Travel
Alert - Level 2, Practice Enhanced Precautions
Watch - Level 1, Practice Usual Precautions
As the COVID-19 situation around the world changes, CDC is monitoring COVID-19 risk in each country and making travel recommendations. If you are considering international travel, see CDC's COVID-19 Travel Recommendations by Destination.
Key Points
There is an outbreak of visceral leishmaniasis in Chad.
The parasite is spread through bites from sand flies.
To prevent leishmaniasis, avoid sand fly bites.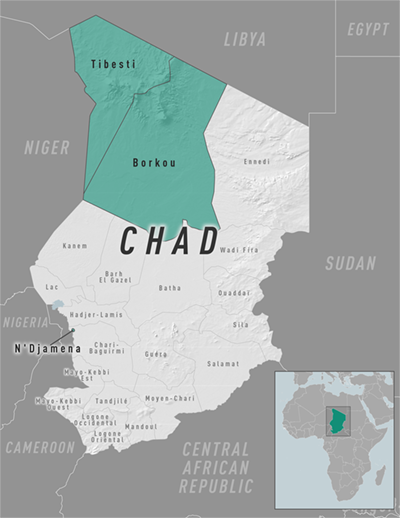 What is Leishmaniasis?
Leishmaniasis is a parasitic disease that is spread to people when they are bitten by sand flies.
There are several forms of leishmaniasis in people. The most common forms are cutaneous and visceral. Cutaneous leishmaniasis causes skin sores, while visceral leishmaniasis affects several internal organs (usually the spleen, liver, and bone marrow).
Symptoms of visceral leishmaniases include fever and weight loss and typically appear within weeks to months (sometimes years) after being bitten. Some infections may be asymptomatic.
What is the current situation?
In January 2018, Chad began reporting cases of visceral leishmaniasis in N'Djamena, Borkou, and Tibesti provinces. Recently, cases have increased, prompting the Ministry of Health and National Solidarity to activate a National Coordination team to strengthen surveillance, increase the capacity of health care workers, and provide drugs and rapid diagnostic tests to provincial hospitals.
Who is at risk?
The risk of infection for most travelers is low. Travelers at highest risk for infection are long-term travelers, expatriates, adventure tourists, immigrants, refugees, missionaries, and humanitarian workers.
What can travelers do to prevent leishmaniasis?
There are no vaccines or medicines that prevent leishmaniasis. CDC advises travelers to affected areas in Chad take the following steps to prevent sand fly bites:
Cover exposed skin by wearing long-sleeved shirts, long pants, and hats. Use permethrin-treated clothing and gear (such as boots, pants, socks, and tents).
Avoid outdoor activities, especially from dusk to dawn, when sand flies generally are the most active.
Stay and sleep in screened or air-conditioned rooms. Use bed nets treated with long-lasting insecticides. Keep in mind that sand flies are much smaller than mosquitoes and therefore can get through smaller holes in screens.
Use EPA-registered insect repellents with one of the following active ingredients: DEET, picaridin, IR3535, oil of lemon eucalyptus (OLE), para-menthane-diol (PMD), or 2-undecanone. Find an EPA-registered insect repellent that's right for you and use it safely and effectively.
Spray dwellings with residual-action insecticides.
If you get sick during or after travel
If you feel sick during travel and have a fever, seek medical care immediately.
If you get sick after returning to the United States, talk to a healthcare provider and tell them about your travel. Avoid contact with other people while you are sick.
Traveler Information
Clinician Information
---
Page last reviewed:
September 30, 2021