Mpox in Nigeria
Warning - Level 3, Avoid Nonessential Travel
Alert - Level 2, Practice Enhanced Precautions
Watch - Level 1, Practice Usual Precautions
Key Points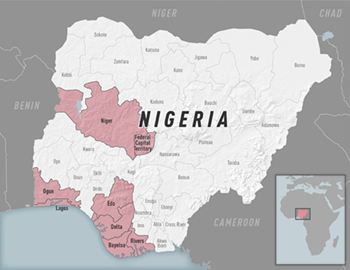 In 2021, cases of mpox have been reported in Nigeria in the following states: Delta, Lagos, Bayelsa, Rivers, Edo, Federal Capital Territory, Niger, and Ogun.
Recent cases of mpox have been reported among US travelers returning from Lagos and Ibadan, Nigeria.
Travelers to Nigeria should avoid contact with sick people, animals such as rodents (rats, squirrels) and non-human primates (monkeys, chimpanzees), products that come from wild animals (including wild game), and contaminated materials (such as clothing or bedding) used by sick people or animals.
Seek medical care immediately if you develop fever, chills, new swollen lymph nodes, and/or new skin rash, and avoid contact with others. If possible, call ahead before going to a healthcare facility.
Delay travel by public transportation until you have been cleared by a healthcare provider or public heath officials.
What is Mpox?
Mpox is a rare disease caused by infection with mpox virus. Mpox occurs throughout Central and West Africa, often near tropical rain forests.
People become infected with the mpox virus through contact with the bodily fluids of infected animals or humans (alive or dead), including respiratory droplets, or through contact with materials contaminated with the virus.
Symptoms include fever (≥100.4°F), headache, muscle aches, and swollen lymph nodes, followed by a rash. Patients are usually ill for 2–4 weeks. Mpox is fatal in as many as 1 to 10% of people who become infected. Prior vaccination against smallpox may provide protection against mpox.
Traveler Information
Clinician Information
---
Page last reviewed:
November 30, 2021