Rabies in Haiti
Warning - Level 3, Avoid Nonessential Travel
Alert - Level 2, Practice Enhanced Precautions
Watch - Level 1, Practice Usual Precautions
Key points
Cases of rabies in dogs have been reported in Haiti, and dog vaccination against rabies is limited.
To prevent rabies, travelers should avoid all contact with dogs and cats (including puppies and kittens) while in Haiti.
Seek immediate medical attention for all animal bites or scratches.
Consider getting vaccinated against rabies before travel.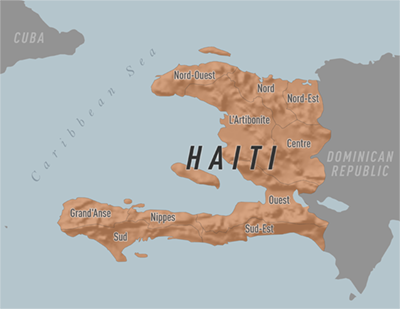 What is rabies?
Rabies is a viral disease that affects the central nervous system (brain and spinal cord) in mammals. It is mainly spread through bites and scratches from infected animals such as dogs, cats, bats, raccoons, skunks, and foxes.
Seek emergency medical care immediately after any possible rabies exposure. Once symptoms of rabies develop, no treatment is available, and it is nearly always fatal.
Who is at risk?
People usually get rabies from the bite of a rabid animal. It is rare, but possible, for people to get rabies from scratches, or contamination of open wounds, abrasions, or mucous membranes. Rabid animals may be infectious for several days before showing signs of rabies. Children may be at higher risk of rabies exposure because they often play with animals and may not report scratches or bites.
What can travelers do to prevent rabies?
Avoid animals
Don't touch dogs, puppies, cats, kittens, or other animals, even if they are pets. Even animals that appear healthy can spread rabies.
Supervise children closely, especially around dogs and puppies, cats and kittens, and wildlife.
Vaccinate pets against rabies before travel. Do not allow pets around other animals.
Bring and wear appropriate protective gear if working with animals.
For more information, see Be Safe Around Animals.
Act quickly if bitten or scratched by a dog or other animal
Wash all bites and scratches immediately with soap and running water for at least 15 minutes.
Seek immediate medical attention for all animal bites or scratches, even if

You don't feel sick.
The wound does not look serious.
You were vaccinated against rabies before travel.

Rabies is nearly always fatal if left untreated but can be prevented by getting appropriate PEP as soon as possible after exposure and before symptoms start.
Consider pre-travel rabies vaccine
If recommended, get vaccinated against rabies before travel. The preexposure rabies vaccine series is given in two shots, the second shot is given seven days after the first shot.
People vaccinated against rabies

Still require immediate medical attention, including a rabies booster shot, after any bite or scratch by an animal that may have rabies.
Do NOT need rabies immune globulin, which can be unavailable in many countries, if they are bit or scratched by an animal that may have rabies.
Consider medical evacuation insurance
If you get sick during or after travel
Traveler Information
Clinician Information
---
Page last reviewed:
July 19, 2022