Rift Valley Fever in Mauritania
Warning - Level 3, Avoid Nonessential Travel
Alert - Level 2, Practice Enhanced Precautions
Watch - Level 1, Practice Usual Precautions
As the COVID-19 situation around the world changes, CDC is monitoring COVID-19 risk in each country and making travel recommendations. If you are considering international travel, see CDC's COVID-19 Travel Recommendations by Destination.
Key points
There here is an outbreak of Rift Valley Fever (RVF) in Mauritania.
RVF can spread through bites of infected mosquitos and by direct contact with blood, body fluids, or organs of infected animals.
Higher rates of this disease are seen after excessive rainfall and flooding.
Travelers to Mauritania should protect themselves from RVF by avoiding contact with cattle and livestock and by preventing mosquito bites.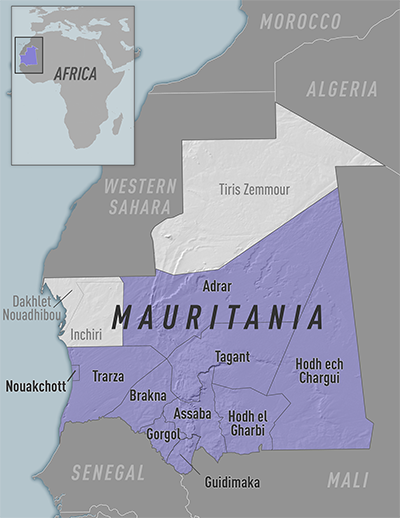 What is Rift Valley Fever?
Rift Valley Fever (RVF) is an acute viral hemorrhagic fever that causes illness in animals (such as cattle, buffalo, sheep, goats, and camels).
Most people with RVF have either no symptoms or a mild illness with fever, weakness, back pain, and dizziness. A small percentage (8-10%) of people with RVF develop much more severe symptoms, including eye disease, hemorrhage (excessive bleeding), and encephalitis (swelling of the brain). Most people recover within one week. Approximately 1% of people who get RVF die.
What is the current situation?
Health officials in Mauritania have reported an outbreak of RVF following heavy flooding in the country. Cases have been reported throughout the country, including the capital region of Nouakchott.
Who is at risk?
People who work with or handle raw meat from potentially infected animals in RVF-endemic areas (areas where the virus is known to occur) are at increased risk of infection. These workers include herders, farmers, slaughterhouse workers, and veterinarians.
Travelers might have an increased risk of exposure to the virus that causes RVF in destinations where cases occur. Spending time in rural areas and sleeping outdoors may increase your exposure to mosquitoes and other insects that carry RVF.
What can travelers do to prevent Rift Valley fever?
There is no vaccine or medication that prevents RVF. Travelers to Mauritania can protect themselves by preventing mosquito bites and taking the following steps:
Avoid exposure to cattle and livestock and to their blood or organs. Do not handle raw meat. Wear protective equipment if working with animals.
Prevent mosquito bites. Because RVF can be spread by mosquito bites, all travelers to Mauritania should prevent mosquito bites by

Using insect repellant.
Wearing long-sleeved shirts and pants when outdoors.
Sleeping in an air-conditioned or well-screened room, or under an insecticide-treated bed net.
If you get sick during or after travel
If you feel sick during travel and think you may have RVF, seek medical care.
If you feel sick after return to the United States, seek medical care and tell your health care provider where and when you traveled.
Use acetaminophen to treat fever and pain. Do not take pain relievers that contain aspirin or ibuprofen, which may increase your chances of bleeding.
Traveler Information
Clinician Information
---
Page last reviewed:
December 11, 2020