West Nile Virus in Spain
Warning - Level 3, Avoid Nonessential Travel
Alert - Level 2, Practice Enhanced Precautions
Watch - Level 1, Practice Usual Precautions
As the COVID-19 situation around the world changes, CDC is monitoring COVID-19 risk in each country and making travel recommendations. If you are considering international travel, see CDC's COVID-19 Travel Recommendations by Destination.
Key points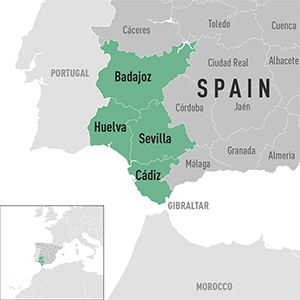 What is West Nile virus?
West Nile virus is primarily spread to humans through mosquito bites.
About 80% of people who are infected with West Nile virus do not feel sick. For those who do feel sick, symptoms can include fever, headache, tiredness, nausea, vomiting, swollen lymph glands, and a rash on the chest, stomach, or back.
In rare cases, those infected can develop a severe illness affecting the central nervous system such as encephalitis (inflammation of the brain) or meningitis (inflammation of the membranes that surround the brain and spinal cord). Symptoms can include high fever, headache, neck stiffness, disorientation, coma, and more.
In a very small number of cases, West Nile virus has been spread through exposure in a laboratory setting, through blood transfusion and organ donation, and from mother to baby during pregnancy, delivery, or breast feeding.
What is the current situation?
Health officials in Spain have reported outbreaks of West Nile virus disease in Sevilla, Cádiz, and Huelva provinces (Andalucía region), and Badajoz province (Extremadura region).
Who is at risk?
All travelers are at risk. Travelers over 50 years of age are at the highest risk for severe disease from West Nile virus
What can travelers do to prevent West Nile virus?
The most effective way to prevent infection from West Nile virus is to prevent mosquito bites. The mosquitoes that spread West Nile virus bite most commonly during at sunrise and sunset. All travelers should take steps to prevent mosquito bites by using an EPA-registered insect repellent, wearing long-sleeved shirts and long pants when outdoors, and sleeping in an air-conditioned room with the windows closed, a room with window screens or under an insecticide-treated bed net.
If you get sick during or after travel
Traveler Information
Clinician Information
This notice was originally posted October 13, 2020.
---
Page last reviewed:
October 13, 2020