Cruise Ship Travel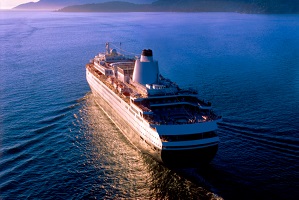 While cruising is a popular way to travel, there are some health concerns to be aware of. Find out more about health issues on cruises and steps you can take to stay safe and healthy during your trip.
If you are feeling sick before your voyage, do not travel and ask your cruise line about rescheduling or reimbursement options. If you feel sick during your voyage, report your symptoms to the ship's medical center and follow their recommendations.
Common Health Concerns During Cruise Travel and what You Can Do to Prevent Illness
Respiratory illnesses like influenza, COVID-19, and the common cold. Get your annual flu shot and get up to date on your COVID-19 vaccines. Check directly with your cruise line about their COVID-19 testing or vaccination protocols before travel. If you have a weakened immune system, talk with your healthcare provider about your cruise travel plans. Wash your hands frequently or use hand sanitizer. When you cough or sneeze, cover your nose and mouth with a tissue to prevent spreading germs. Consider wearing a mask in crowded or poorly ventilated indoor areas.
Norovirus. Symptoms of vomiting and diarrhea, primarily caused by outbreaks of norovirus, have been reported. To prevent norovirus, wash your hands with soap and water before eating and after using the bathroom, changing diapers, or touching things that other people have touched, such as stair railings. Avoid touching your face. For more information, visit CDC's Vessel Sanitation Program website.
Seasickness. Cruise ship passengers may experience seasickness or motion sickness. If you know you get seasick or think you may be likely to get seasick, talk to your healthcare provider about medicine to reduce your symptoms. Some common medications, including some antidepressants, painkillers, and birth control pills, can make seasickness worse.
Sunburns. Apply sunscreen with SPF 15 or higher when traveling. Protecting yourself from the sun isn't just for tropical beaches—you can get a sunburn even if it's cloudy or cold.
Bug bites. On your trip, use insect repellent and take other steps to avoid bug bites. Bugs, including mosquitoes and ticks, can spread diseases such as malaria, yellow fever, Zika, dengue, chikungunya, and Lyme. Many ships visit ports where these diseases are a concern.
Before Your Trip
Check CDC's destination pages for travel health information. Check CDC's webpage for your destination to see what vaccines or medicines you may need and what diseases or health risks are a concern at your destination.
Make sure you are up to date with all of your routine vaccines. Routine vaccinations protect you from infectious diseases that can spread quickly in groups of people. Outbreaks of chickenpox, influenza, and COVID-19 have been reported on cruise ships.
Many diseases prevented by routine vaccination are not common in the United States but are still common in other countries. Crew members and fellow travelers often board a cruise ship from destinations where some diseases are more common than in the United States or where vaccination is not routine.
Make an appointment with your healthcare provider or a travel health specialist that takes place at least one month before you leave. They can help you get destination-specific vaccines, medicines, and information. Discussing your health concerns, itinerary, and planned activities with your provider allows them to give more specific advice and recommendations.
Plan for the Unexpected
Prepare for any unexpected issues during your cruise ship travels with the following steps:
Prepare a travel health kit with items you may need, especially those items that may be difficult to find at your destination. Include your prescriptions and over-the-counter medicines in your travel health kit and take enough to last your entire trip, plus extra in case of travel delays. Depending on your destination you may also want to pack a mask, insect repellent, sunscreen (SPF15 or higher), aloe, alcohol-based hand sanitizer, water disinfection tablets, and your health insurance card.

Get travel insurance. Find out if your health insurance covers medical care abroad. Travelers are usually responsible for paying hospital and other medical expenses out of pocket at most destinations. Make sure you have a plan to get care overseas, in case you need it. Consider buying additional insurance that covers health care and emergency evacuation, especially if you will be traveling to remote areas.
If you need medical care abroad, see Getting Health Care During Travel.
After Travel

If you traveled and feel sick, particularly if you have a fever, talk to a healthcare provider and tell them about your travel. Avoid contact with other people while you are sick.
More Information
---
Page last reviewed:
May 12, 2023