Know and Share Important Information About Your Trip
Important Information for Travelers
Before you leave, it is important to write down contact information (phone numbers and addresses) of services you may need.
Find the American Embassy or Consulate in your destination by going to the list of Websites of U.S. Embassies, Consulates, and Diplomatic Missions (U.S. Department of State). Consular personnel at U.S. Embassies and Consulates abroad and in the U.S. are available 24 hours a day, 7 days a week, to provide emergency assistance to U.S. citizens.

For specific questions regarding an emergency involving an American citizen overseas, contact the Office of Overseas Citizens Services at 1-888-407-4747 (from overseas: 202-501-4444.
To learn more about services available during an emergency, see the information at Emergencies: Consular Assistance and Crises Abroad.

Know where health-care resources are located in your destination before you leave. See Doctors/Hospitals Abroad (U.S. Department of State).
Important Information for a Traveler's Family and Friends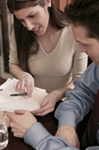 In addition to preparing yourself for your trip, it is important to also prepare your friends and family at home for a possible emergency. Ask a family member, friend, or employer to be your contact person while you are traveling. Before you leave:
Make arrangements to check in at regular intervals during your trip with this contact person.
Leave them a copy of your passport, as well as details of your travel plans and how to contact you.
Leave them a copy of your prescription for any medicines that you are taking and the contact information for your doctor.
If there is an emergency at home, or if a family member is worried about a traveler's welfare, they can ask the embassy or consulate for help. See the Welfare/Whereabouts Services Abroad webpage for specific services available.
Register with the U.S. Department of State
The U.S. Department of State provides a free travel registration service to U.S. citizens who are traveling or living in another country. Registration allows you to record information about your trip so that an American consular officer can contact and assist you in an emergency. Registration is very helpful if you find yourself in a situation where there is unexpected civil unrest or a natural disaster, such as an earthquake or hurricane. Remember, a consular officer cannot assist you if they do not know where you are. For more information, see Registration of Traveler Emergency Contact and Itinerary Information.
Page created:

July 31, 2008

Page last updated:

December 22, 2008

Page last reviewed:

January 13, 2011

Content source: