See a Doctor Before You Travel
It is important that you visit a travel medicine specialist or a doctor familiar with travel medicine to answer your questions and make specific recommendations for you. The best time to see the doctor is at least 4-6 weeks before your trip.
Our website provides general recommendations, but CDC cannot give you specific advice. Recommendations for vaccines and medicines depend on many factors that are specific to each person. Be sure to give your doctor all the information needed to make recommendations. Examples of these factors include: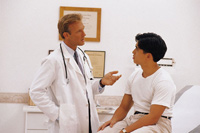 Where you are traveling within a country,
The length of your trip,
What types of activities you might do,
Other personal matters such as your age, medical and vaccine history, and current medical state.
Follow the advice of your doctor by getting the shots and medicines that are recommended for you.
Make sure that you are up-to-date with all of your routine vaccinations, including a seasonal flu vaccine.
Consider any recommended vaccines for your destination, and discuss any allergies, current medications, or other health concerns with your doctor.
If you have recently been sick or find yourself sick at the time of planned travel, see your doctor to discuss whether you should travel. Traveling while you are sick may put your health at risk or put others around you at risk for getting sick. See the section Making the Decision to Travel and Taking Care of Special Needs for more information.
For a more detailed list of things that might be helpful for your doctor to know before giving you advice, see How to Prepare for your Pre-Travel Appointment.
How to Find a Travel Clinic
Public Health Departments - Many local or county health departments provide pre-travel advice and any needed shots or medicines. See the State Health Department Websites listing to access phone numbers and locations for county or local health departments. If health departments do not have travel clinics, they usually know who in the area provides services for travelers.
Private Travel Clinics - You can also look for private clinics that can provide pre-travel advice. CDC recommends that travelers with more complex itineraries or travelers with health problems see doctors who specialize in travel medicine. Two professional medical organization websites that provide directories of private travel clinics are:

Yellow Fever Vaccination Clinics Registry – Yellow fever vaccine must be given by a registered provider. If you need a yellow fever vaccine for your travel destination, you can find a registered provider near you by using the online Yellow Fever Vaccination Clinics registry. Many of these clinics also give other travel-related vaccines and medications. (Click on the state where you live and search by city or county by changing the "Order clinics by" drop-down menu. Contact information for the yellow fever vaccine providers is given.)
CDC provides these directories as a courtesy to the public but does not endorse any health-care providers.
Page created:

July 31, 2008

Page last updated:

August 24, 2018

Page last reviewed:

January 13, 2011

Content source: