Zika Travel Information
Note: The information on this page is for travelers to international destinations and US territories. For information on Zika in US states, visit Areas with Zika. For the most current information about Zika virus, please visit CDC's Zika website.
Zika Travel Notices
Africa
Currently includes: Angola, Guinea-Bissau
The Caribbean
Currently includes: Anguilla; Antigua and Barbuda; Aruba; The Bahamas; Barbados; Bonaire; British Virgin Islands; Cayman Islands; Cuba; Curaçao; Dominica; Dominican Republic; Grenada; Guadeloupe; Haiti; Jamaica; Martinique; Montserrat; the Commonwealth of Puerto Rico, a US territory; Saba; Saint Barthelemy; Saint Kitts and Nevis; Saint Lucia; Saint Martin; Saint Vincent and the Grenadines; Sint Eustatius; Sint Maarten; Trinidad and Tobago; Turks and Caicos Islands; US Virgin Islands
Central America
Currently includes: Belize, Costa Rica, El Salvador, Guatemala, Honduras, Nicaragua, Panama
The Pacific Islands
Currently includes: Fiji, Marshall Islands, Micronesia, Palau, Papua New Guinea, Samoa, Solomon Islands, Tonga
Other Areas with Zika Risk
Because Zika infection in a pregnant woman can cause severe birth defects, pregnant women should not travel to these areas. All travelers should strictly follow steps to prevent mosquito bites and prevent sexual transmission during and after the trip. Zika has likely been present in these areas for years with ongoing transmission. Check this page for the most up-to-date information before you make travel plans.
Please visit CDC's Zika health care provider website for testing recommendations for pregnant women.
Africa: Benin, Burkina-Faso, Burundi, Cameroon, Central African Republic, Chad, Congo (Congo-Brazzaville), Côte d'Ivoire, Democratic Republic of the Congo (Congo-Kinshasa), Equatorial Guinea, Gabon, Gambia, Ghana, Guinea, Kenya, Liberia, Mali, Niger, Nigeria, Rwanda, Senegal, Sierra Leone, South Sudan, Sudan, Tanzania, Togo, Uganda
Asia: Bangladesh, Burma (Myanmar), Cambodia, India, Indonesia, Laos, Malaysia, Philippines, Thailand, Timor-Leste (East Timor), Vietnam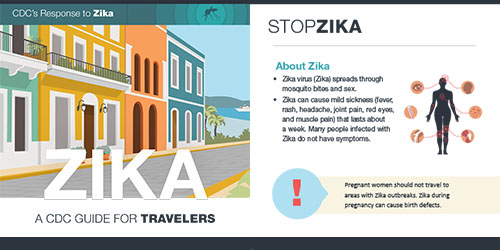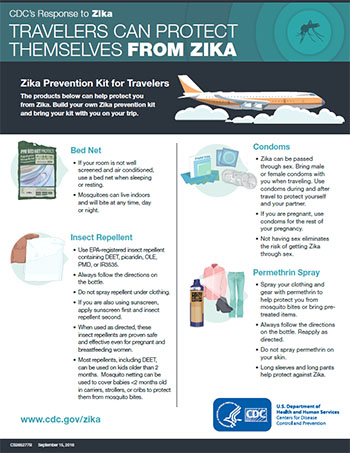 Page created:

January 26, 2016

Page last updated:

April 19, 2017

Page last reviewed:

April 19, 2017

Content source: