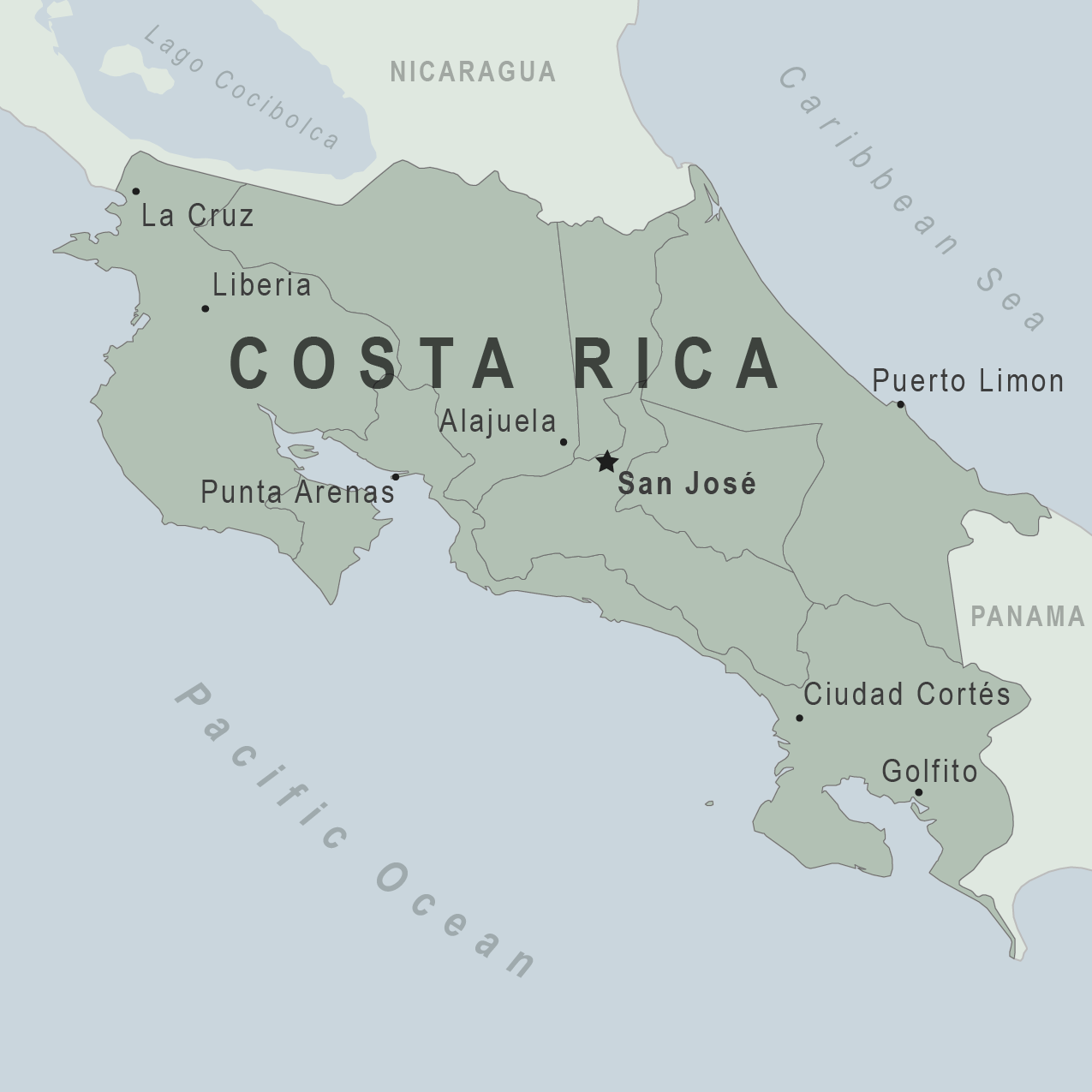 Hide
COVID-19 Travel Information
Level 4: COVID-19 Very High
Hide
Travel Health Notices
Stay aware of current health issues in Costa Rica in order to advise your patients on additional steps they may need to take to protect themselves.
Watch Level 1, Practice Usual Precautions
Dengue in the Americas

March 02, 2021

Dengue is a risk in many parts of Central and South America, Mexico, and the Caribbean. Some countries are reporting increased numbers of cases of the disease. Travelers to the Americas can protect themselves by preventing mosquito bites.
Hide
Non-Vaccine-Preventable Diseases
The following diseases are possible risks your patients may face when traveling in Costa Rica. This list is based on our best available surveillance data and risk assessment information at the time of posting. It is not a complete list of diseases that may be present in a destination. Risks may vary within different areas of a destination.
Disease Name
How most people get sick (most common modes of transmission)
Advice
Clinical Guidance

Avoid bug bites

Chagas disease (American Trypanosomiasis)

Risk to travelers is extremely low
Higher risk if staying in poor-quality housing
Spread by the feces of triatomine bugs (also known as reduviid bugs or "kissing" bugs), not the bug bite

See prevention information in Detailed FAQs (CDC Parasitic Diseases website)

Dengue

Mosquitoes carrying dengue bite during the day and night, both indoors and outdoors, and often live around buildings
Leading cause of febrile illness among travelers returning from the Caribbean, South America, and South and Southeast Asia

Zika

We do not have accurate information on the current level of risk. There may be delays in detection and reporting of new outbreaks.
Because Zika is a cause of severe birth defects, CDC recommends pregnant women and couples trying to become pregnant within the next 3 months work with their health care providers to carefully consider the risks and possible consequences of travel to areas with risk of Zika.
Counsel your patients on actions they can take on their trip to stay healthy and safe.
Hide
Healthy Travel Packing List
Hide
Advising Returning Travelers
Although some illnesses may begin during travel, others may occur weeks, months, or even years after return. A history of travel, particularly within the previous 6 months, should be part of the routine medical history for every ill patient. A newly returned, ill international traveler should be preferentially evaluated by a physician versed in travel-related illness.
Here are two professional medical organizations that provide directories of travel clinics throughout the United States:
Malaria is always a serious disease and may be a deadly illness. Any patient presenting with a fever after traveling in a malaria-risk area during the last year should be evaluated immediately using the appropriate diagnostic tests for malaria. Malaria, especially P. falciparum, requires urgent intervention as clinical deterioration can occur rapidly and unpredictably.
For more information on advising patients after international travel, see Yellow Book Chapter 5: Post-Travel Evaluation.
Map Disclaimer - The boundaries and names shown and the designations used on maps do not imply the expression of any opinion whatsoever on the part of the Centers for Disease Control and Prevention concerning the legal status of any country, territory, city or area or of its authorities, or concerning the delimitation of its frontiers or boundaries. Approximate border lines for which there may not yet be full agreement are generally marked.
---
Page last reviewed:
December 09, 2020