Allowing U.S. Citizens, U.S. Nationals, Lawful Permanent Residents, and Certain Noncitizens Leaving Shanghai, China to Travel to the United States Without a Pre-Departure COVID-19 Test or Documentation of Recovery through June 10, 2022
The Centers for Disease Control and Prevention (CDC) has announced that, based on a request from the U.S. Department of State, it is exercising its enforcement discretion regarding its "Amended Order: Requirement for Proof of Negative COVID-19 Test Result or Recovery from COVID-19 for All Airline Passengers Arriving into the United States," effective immediately. CDC has determined that the current exigent circumstances in Shanghai, China may preclude individuals from meeting the requirements of CDC's amended Testing Order. This exercise of enforcement discretion is limited to the following individuals departing Shanghai, China: U.S. Citizens; U.S. Nationals, Lawful Permanent Residents (LPR); noncitizens in possession of a valid U.S. immigrant visa; and noncitizen nonimmigrants who are traveling with a U.S. citizen or LPR and possess valid travel documents allowing them to travel to the United States.
While CDC has determined that all air passengers two years of age or older, with limited exemptions, boarding a flight to the United States from a foreign country must meet the requirements of the amended Testing Order, if individuals subject to this exercise of enforcement discretion are not able to be tested in the timeframe required, the airlines may proceed with boarding these individuals without meeting the requirement of a negative COVID-19 test or documentation of recovery from COVID-19. Additionally, consistent with international and domestic public health recommendations, and consistent with CDC recommendations for international travel and domestic public health recommendations, individuals should take all necessary and appropriate steps to protect the health of themselves and others during travel, including by properly wearing a well-fitting mask or respirator to keep the nose and mouth covered during the flight, as well as on public transportation and in airports and other transportation hubs. This exercise of enforcement discretion is effective immediately and will expire on June 10, 2022, at 23:59 ET, subject to any further extensions.
Individuals covered by this exercise of enforcement discretion will not be required to provide proof of a negative COVID-19 test result or documentation of recovery prior to boarding a flight to the United States, or to complete the attestation at Section 1 of the Combined Passenger Disclosure and Attestation to the United States of America form.
Some individuals who are subject to this enforcement discretion, such as spouses, may be noncitizen nonimmigrants who are required to show proof of vaccination under Presidential Proclamation 10294 on Advancing the Safe Resumption of Global Travel During the COVID-19 Pandemic and CDC's Amended Order: Implementing Presidential Proclamation on Advancing the Safe Resumption of Global Travel During the COVID-19 Pandemic. Individuals who are not considered fully vaccinated with an accepted COVID-19 vaccine may apply for a humanitarian or emergency exception to the vaccination requirement by submitting an exception request to the nearest U.S. Embassy. For more information visit COVID-19 Information - U.S. Embassy & Consulates in China.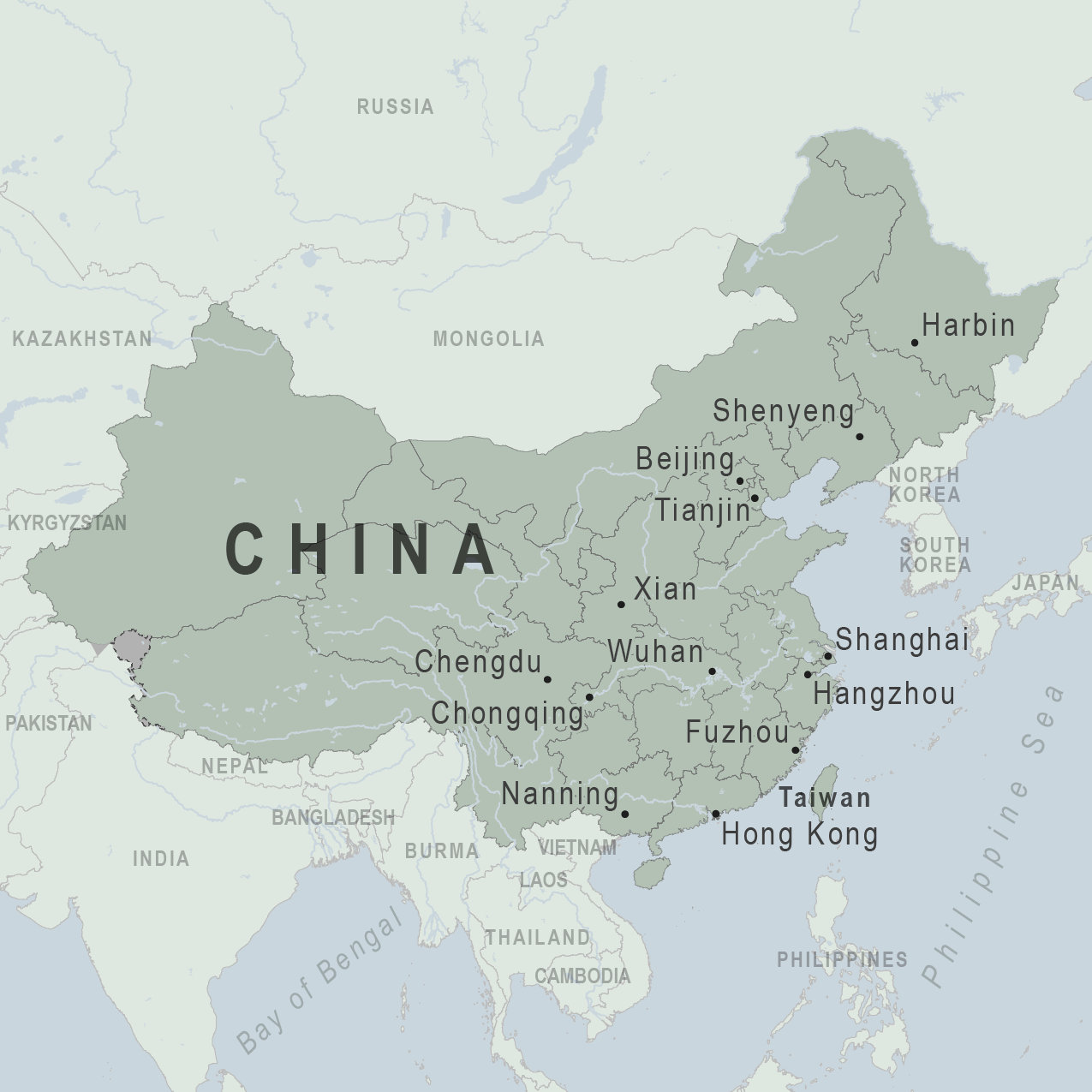 Hide
COVID-19 Travel Information
Level 1: COVID-19 Low
COVID-19 in China

April 18, 2022

Make sure you are vaccinated and up to date with your COVID-19 vaccines before traveling to China.
Hide
Travel Health Notices
Be aware of current health issues in China. Learn how to protect yourself.
Hide
Non-Vaccine-Preventable Diseases
Disease Name
Common ways the disease spreads
Advice
Clinical Guidance for Healthcare Providers

Avoid contaminated water

Leptospirosis

Touching urine or other body fluids from an animal infected with leptospirosis
Swimming or wading in urine-contaminated fresh water, or contact with urine-contaminated mud
Drinking water or eating food contaminated with animal urine

Avoid contaminated water and soil

Schistosomiasis

Wading, swimming, bathing, or washing in contaminated freshwater streams, rivers, ponds, lakes, or untreated pools.

Avoid bug bites

Chikungunya
Crimean-Congo Hemorrhagic fever

Tick bite
Touching the body fluids of a person or animal infected with CCHF

Dengue
Leishmaniasis

Airborne & droplet

Avian/Bird Flu

Being around, touching, or working with infected poultry, such as visiting poultry farms or live-animal markets

Avoid domestic and wild poultry

Hantavirus

Breathing in air or accidentally eating food contaminated with the urine, droppings, or saliva of infected rodents
Bite from an infected rodent
Less commonly, being around someone sick with hantavirus (only occurs with Andes virus)

Avoid rodents and areas where they live
Avoid sick people

Tuberculosis (TB)

Breathe in TB bacteria that is in the air from an infected and contagious person coughing, speaking, or singing.
Hide
Stay Healthy and Safe
Learn actions you can take to stay healthy and safe on your trip. Vaccines cannot protect you from many diseases in China, so your behaviors are important.
Hide
Healthy Travel Packing List
Use the Healthy Travel Packing List for China for a list of health-related items to consider packing for your trip. Talk to your doctor about which items are most important for you.
Why does CDC recommend packing these health-related items?
It's best to be prepared to prevent and treat common illnesses and injuries. Some supplies and medicines may be difficult to find at your destination, may have different names, or may have different ingredients than what you normally use.
If you are not feeling well after your trip, you may need to see a doctor. If you need help finding a travel medicine specialist, see Find a Clinic. Be sure to tell your doctor about your travel, including where you went and what you did on your trip. Also tell your doctor if you were bitten or scratched by an animal while traveling.
If your doctor prescribed antimalarial medicine for your trip, keep taking the rest of your pills after you return home. If you stop taking your medicine too soon, you could still get sick.
Malaria is always a serious disease and may be a deadly illness. If you become ill with a fever either while traveling in a malaria-risk area or after you return home (for up to 1 year), you should seek immediate medical attention and should tell the doctor about your travel history.
For more information on what to do if you are sick after your trip, see Getting Sick after Travel.
Map Disclaimer - The boundaries and names shown and the designations used on maps do not imply the expression of any opinion whatsoever on the part of the Centers for Disease Control and Prevention concerning the legal status of any country, territory, city or area or of its authorities, or concerning the delimitation of its frontiers or boundaries. Approximate border lines for which there may not yet be full agreement are generally marked.
---
Page last reviewed:
May 10, 2022