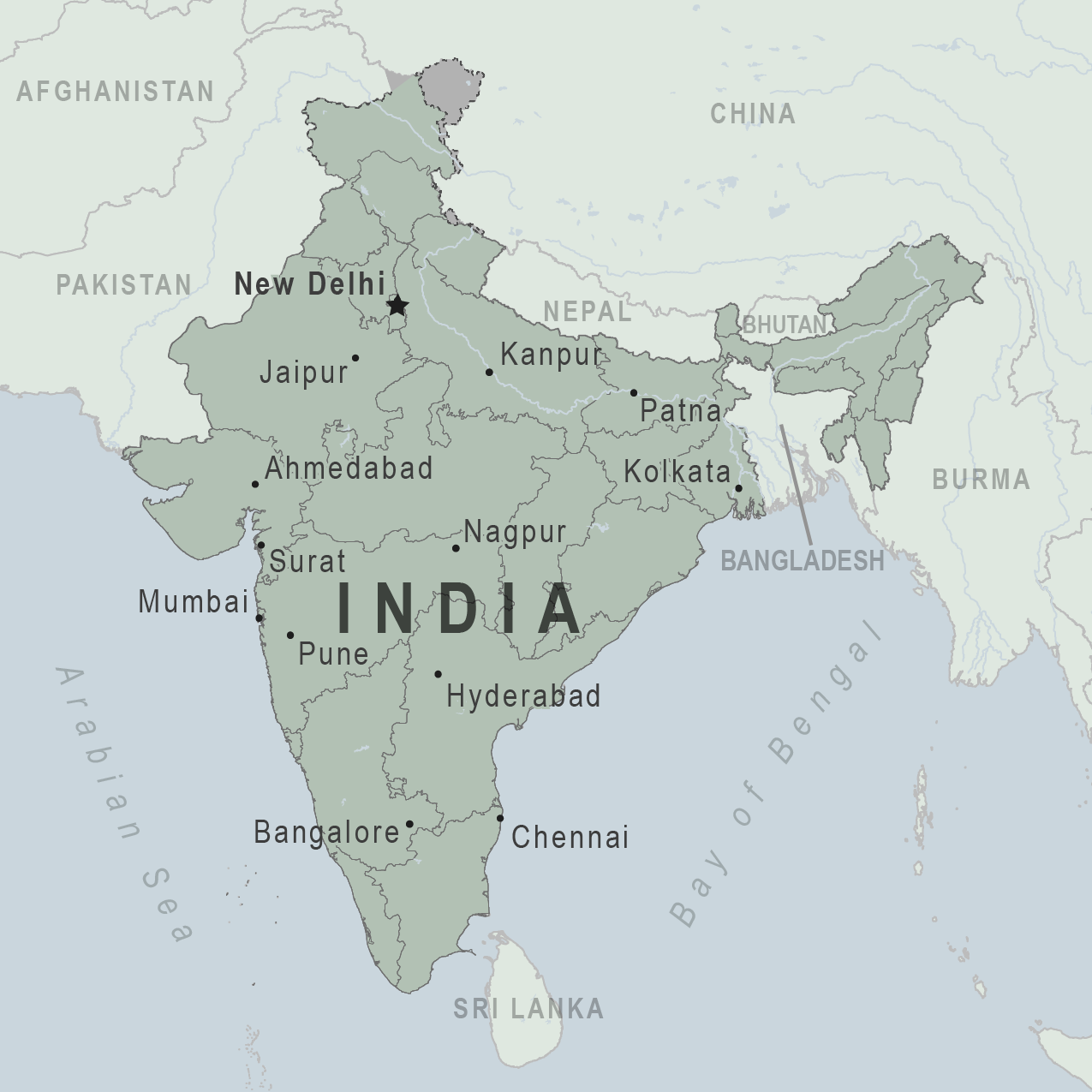 Hide
COVID-19 Travel Information
Level 4: COVID-19 Very High
Hide
Travel Health Notices
Be aware of current health issues in India. Learn how to protect yourself.
Hide
Vaccines and Medicines
Check the vaccines and medicines list and visit your doctor at least a month before your trip to get vaccines or medicines you may need.
Find Out Why
Protect Yourself

All travelers

You should be up to date on routine vaccinations while traveling to any destination. Some vaccines may also be required for travel.

Measles

Infants 6 to 11 months old traveling internationally should get 1 dose of measles-mumps-rubella (MMR) vaccine before travel. This dose does not count as part of the routine childhood vaccination series.

Routine vaccines

Make sure you are up-to-date on all routine vaccines before every trip. Some of these vaccines include

Chickenpox (Varicella)
Diphtheria-Tetanus-Pertussis
Flu (influenza)
Measles-Mumps-Rubella (MMR)
Polio

Most travelers

Get travel vaccines and medicines because there is a risk of these diseases in the country you are visiting.

Malaria

CDC recommends that travelers going to certain areas of India take prescription medicine to prevent malaria. Depending on the medicine you take, you will need to start taking this medicine multiple days before your trip, as well as during and after your trip. Talk to your doctor about which malaria medication you should take.

Find country-specific information about malaria.

Hepatitis A

Recommended for unvaccinated travelers one year old or older going to India.

Infants 6 to 11 months old should also be vaccinated against Hepatitis A. The dose does not count toward the routine 2-dose series.

Travelers allergic to a vaccine component or who are younger than 6 months should receive a single dose of immune globulin, which provides effective protection for up to 2 months depending on dosage given.

Unvaccinated travelers who are over 40 years old, immunocompromised, or have chronic medical conditions planning to depart to a risk area in less than 2 weeks should get the initial dose of vaccine and at the same appointment receive immune globulin.

Typhoid

Recommended for most travelers, especially those staying with friends or relatives or visiting smaller cities or rural areas.

Some travelers

Ask your doctor what vaccines and medicines you need based on where you are going, how long you are staying, what you will be doing, and if you are traveling from a country other than the US.

Cholera

Vaccination may be considered for adults who are traveling to areas of active cholera transmission. Cholera is presumed to be present in India. Cholera is rare in travelers but can be severe. Certain factors may increase the risk of getting cholera or having severe disease (more information). Avoiding unsafe food and water and washing your hands can also help prevent cholera.

Hepatitis B

Recommended for unvaccinated travelers of all ages to India.

Japanese Encephalitis

Recommended for travelers who

Are moving to an area with Japanese encephalitis to live
Spend long periods of time, such as a month or more, in areas with Japanese encephalitis
Frequently travel to areas with Japanese encephalitis

Consider vaccination for travelers

Spending less than a month in areas with Japanese encephalitis but will be doing activities that increase risk of infection, such as visiting rural areas, hiking or camping, or staying in places without air conditioning, screens, or bed nets
Going to areas with Japanese encephalitis who are uncertain of their activities or how long they will be there

Not recommended for travelers planning short-term travel to urban areas or travel to areas with no clear Japanese encephalitis season.

Rabies

Rabid dogs are commonly found in India. If you are bitten or scratched by a dog or other mammal while in India, there may be limited or no rabies treatment available.

Consider rabies vaccination before your trip if your activities mean you will be around dogs or wildlife.

Travelers more likely to encounter rabid animals include

Campers, adventure travelers, or cave explorers (spelunkers)
Veterinarians, animal handlers, field biologists, or laboratory workers handling animal specimens
Visitors to rural areas

Since children are more likely to be bitten or scratched by a dog or other animals, consider rabies vaccination for children traveling to India.

Yellow Fever

Any traveler (except infants <9 months old) arriving by air or sea without a yellow fever vaccination certificate is detained in isolation for up to 6 days if that person—

1) arrives within 6 days of departure from an area with risk of YF virus transmission,
2) has been in such an area in transit (except those passengers and members of flight crews who, while in transit through an airport in an area with risk of YF virus transmission, remained in the airport during their entire stay and the health officer agrees to such an exemption),
3) arrives on a ship that started from or touched at any port in an area with risk of YF virus transmission up to 30 days before its arrival in India, unless such a ship has been disinsected in accordance with the procedure recommended by WHO, or
4) arrives on an aircraft that has been in an area with risk of YF virus transmission and has not been disinsected in accordance with the Indian Aircraft Public Health Rules, 1954, or as recommended by WHO.

The following are regarded as countries and areas with risk of YF virus transmission:
Africa: Angola, Benin, Burkina Faso, Burundi, Cameroon, Central African Republic, Chad, Congo, Côte d'Ivoire, Democratic Republic of the Congo, Equatorial Guinea, Ethiopia, Gabon, The Gambia, Ghana, Guinea, Guinea-Bissau, Kenya, Liberia, Mali, Mauritania, Niger, Nigeria, Rwanda, Senegal, Sierra Leone, South Sudan, Sudan, Togo, and Uganda.
Americas: Argentina, Bolivia, Brazil, Colombia, Ecuador, French Guiana, Guyana, Panama, Paraguay, Peru, Suriname, Trinidad and Tobago (Trinidad only), and Venezuela.
Note: When a case of yellow fever is reported from any country, that country is regarded by the government of India as a country with risk of YF virus transmission and is added to the above list.

Note: Yellow fever vaccine availability in the United States is currently limited. If you need to be vaccinated before your trip, you may need to travel some distance and schedule your appointment well in advance. Find the clinic nearest you.
Hide
Stay Healthy and Safe
Learn actions you can take to stay healthy and safe on your trip. Vaccines cannot protect you from many diseases in India, so your behaviors are important.
Hide
Healthy Travel Packing List
Use the Healthy Travel Packing List for India for a list of health-related items to consider packing for your trip. Talk to your doctor about which items are most important for you.
Why does CDC recommend packing these health-related items?
It's best to be prepared to prevent and treat common illnesses and injuries. Some supplies and medicines may be difficult to find at your destination, may have different names, or may have different ingredients than what you normally use.
If you are not feeling well after your trip, you may need to see a doctor. If you need help finding a travel medicine specialist, see Find a Clinic. Be sure to tell your doctor about your travel, including where you went and what you did on your trip. Also tell your doctor if you were bitten or scratched by an animal while traveling.
If your doctor prescribed antimalarial medicine for your trip, keep taking the rest of your pills after you return home. If you stop taking your medicine too soon, you could still get sick.
Malaria is always a serious disease and may be a deadly illness. If you become ill with a fever either while traveling in a malaria-risk area or after you return home (for up to 1 year), you should seek immediate medical attention and should tell the doctor about your travel history.
For more information on what to do if you are sick after your trip, see Getting Sick after Travel.
Map Disclaimer - The boundaries and names shown and the designations used on maps do not imply the expression of any opinion whatsoever on the part of the Centers for Disease Control and Prevention concerning the legal status of any country, territory, city or area or of its authorities, or concerning the delimitation of its frontiers or boundaries. Approximate border lines for which there may not yet be full agreement are generally marked.
---
Page last reviewed:
December 18, 2020