African Safaris
CDC Yellow Book 2024
Popular Itineraries
---
Destination Overview
Arguably the ultimate in adventure travel, an African safari is the experience of a lifetime. Safari-goers have options to view wildlife from different vantages: on land (traditional savannah guided car safaris, open trucks, air-conditioned vans, personal vehicles), on the water (in a dugout canoe), or from the air (private aircraft, hot air balloon). Hiking with trained, licensed guides in well-scouted settings offers another opportunity to see wildlife up close; treks to view chimpanzees or gorillas, for example, are highly popular.
With >150 game parks and reserves across the continent, individual travelers, families, backpackers, and people with similar interests (e.g., serious photographers) have a range of choices and budget options. Some parks are remote and rustic, with long drives to see the animals but with fewer tourists. Other parks are easily accessible with self-drive options. Many safaris accept young children and adolescent participants; gorilla trekking and other more strenuous activities require participants to be ≥15 years of age.
Map 10-01 and Map 10-02 show several major African game parks. In East Africa, the Maasai Mara National Reserve in Kenya is the northern extension of Tanzania's Serengeti National Park game reserve. Together these 2 parks are home to the complete collection of the so-called big 5—Cape buffalo, elephants, leopards, lions, and rhinoceros—the large wild animals for which Africa is most famous. Other East African game parks that offer exceptional wildlife viewing include Tsavo National Park (Kenya); Akagera National Park (Rwanda); Ngorongoro Crater (Tanzania); and Ngamba Island Chimpanzee Sanctuary, Murchison Falls National Park, Queen Elizabeth National Park, and Ziwa Rhino Sanctuary (Uganda). Travelers can trek to see gorillas at the Virunga National Park (Democratic Republic of the Congo), Volcanoes National Park (Rwanda), and Bwindi Impenetrable National Park (Uganda); "impenetrable" refers to the challenging hiking required in this park.
Game park destinations in Southern Africa include Moremi Game Reserve, Chobe National Park, and Kalahari Desert (Botswana); Etosha National Park (Namibia); Kruger National Park (South Africa); Lower Zambezi National Park and South Luangwa National Park (Zambia); and the Hwange National Park (Zimbabwe). Pendjari National Park in Benin, home to West African lions and elephants, is a major part of the largest intact ecosystem in West Africa, the transnational W-Arly-Pendjari (WAP) complex, which spans Benin, Burkina Faso, and Niger. Mole National Park (Ghana) boasts >93 mammal species, including elephants and hippos.
Although the centerpiece of safari-going remains viewing majestic animals in their natural habitat, many tour operators now also offer programs on local culture and history, ecosystems, and geology. Conservation-based tours promoting responsible tourism give travelers an opportunity to help safeguard wildlife, protect vital habitat, and benefit local people.
Map 10-01 African game parks & reserves (North)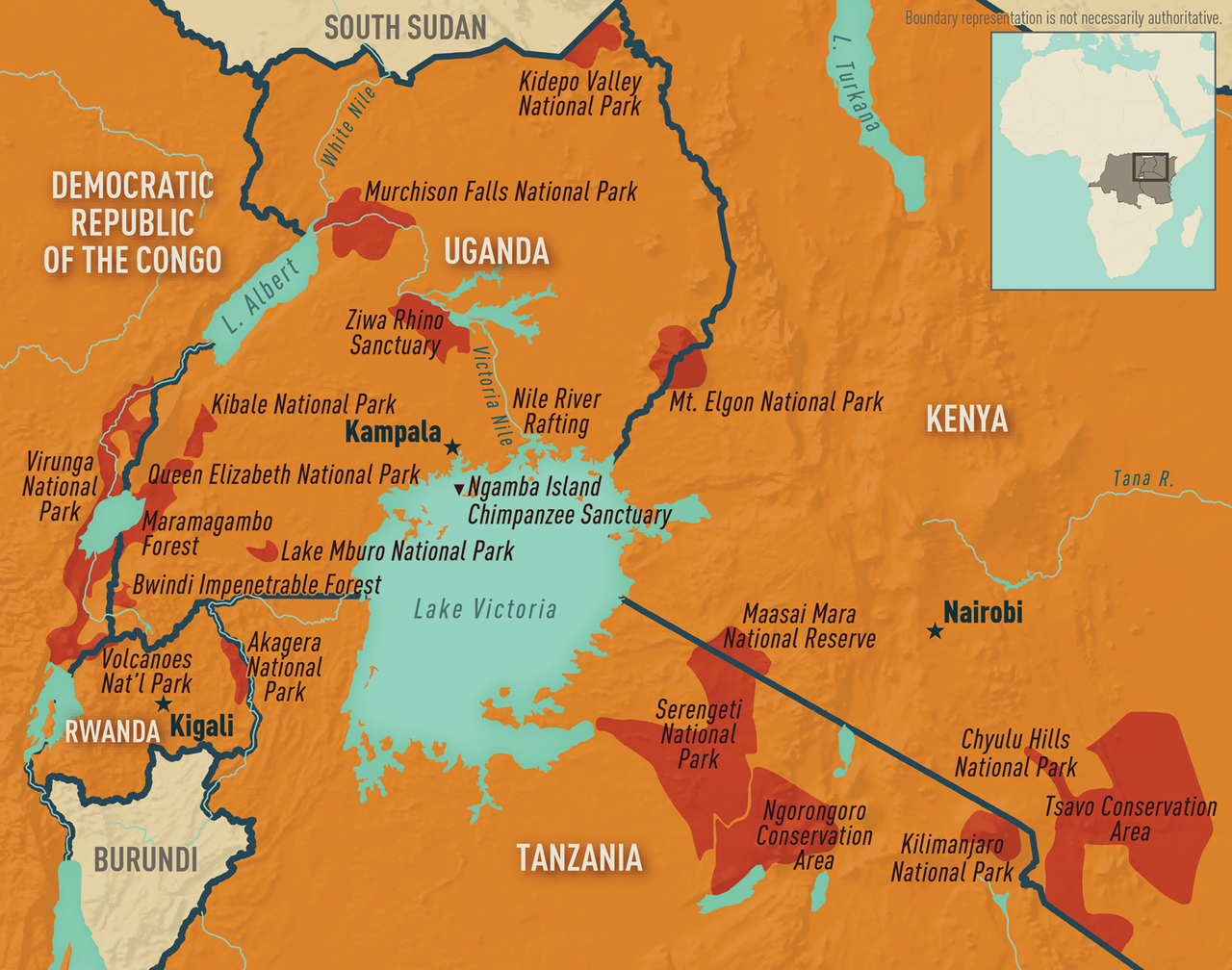 Map 10-02 African game parks & reserves (South)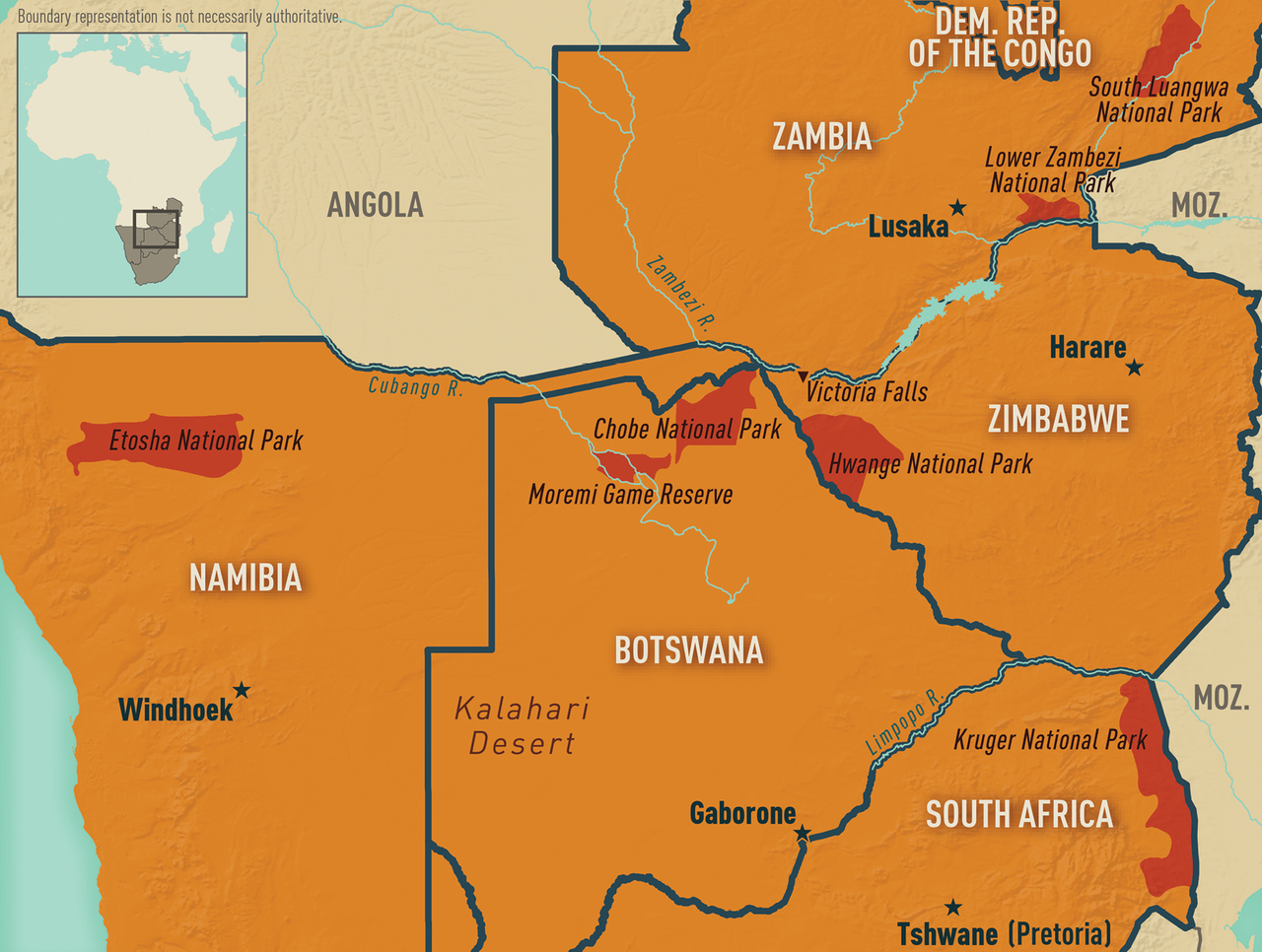 Infectious Disease Risks
Health, safety, and comfort issues that safari-goers are likely to encounter are mostly predictable and largely avoidable. A pretravel consultation with a travel health care provider is essential. Multiple vaccinations might be required for healthy safari travel. Provide advice specific to each traveler's itinerary, country, and game park. Because vaccines take time to become effective, advise travelers to seek vaccination as early as possible prior to planned departure. For people trekking to see gorillas, certain vaccines are recommended to protect both travelers and animals, including coronavirus disease 2019 (COVID-19), diphtheria-tetanus-pertussis, hepatitis A and hepatitis B, influenza, measles-mumps-rubella, polio, and yellow fever.
Enteric Infections & Diseases
Hepatitis A
Hepatitis A virus is transmitted through ingestion of contaminated food or water or through direct contact with an infectious person. Hepatitis A is among the most common vaccine-preventable infections acquired during travel. Risk is greatest for people who live or visit rural areas, trek in backcountry areas, or frequently eat or drink in settings of poor sanitation. Vaccination is recommended for travelers to sub-Saharan Africa, including safari-goers (see Sec. 5, Part 2, Ch. 7, Hepatitis A).
Travelers' Diarrhea
Travelers' diarrhea (TD) is the most predictable travel-related illness and is common on safaris. Prepare travelers by explaining the risks for TD and how best to prevent it through appropriate hand hygiene and careful selection of foods and beverages (see Sec. 2, Ch. 6, Travelers' Diarrhea). Infectious causes of TD include bacteria (e.g., Campylobacter jejuni, Escherichia coli, Salmonella spp., Shigella spp.), viruses (e.g., norovirus, rotavirus), and protozoa (e.g., Cryptosporidium, Giardia).
Most TD cases are mild and self-limiting. Advise travelers to carry antimotility medicine for symptomatic relief of mild TD. Consider prescribing antibiotic therapy to treat moderate to severe TD and providing travelers with clear written guidance about TD prevention and step-by-step instructions about how and when to use medications. Travelers should carry any medications with them on safari, because access to authentic drugs is not guaranteed in remote locations (see Sec. 6, Ch. 3, . . . perspectives: Avoiding Poorly Regulated Medicines & Medical Products During Travel). Travelers should consult a physician for moderate, severe, or persistent TD.
No vaccines are available for most pathogens that cause TD. Cholera vaccine is not needed for safari-goers unless they are planning a side trip to work in a refugee camp or do humanitarian aid work in an affected country. Advise travelers to carry alcohol-based hand sanitizer with ≥60% alcohol for use when water and soap are scarce or unsafe, or conditions are generally unhygienic. Travelers should avoid drinking tap water while on safari and only consume adequately disinfected (e.g., commercially bottled) water from an unopened, factory-sealed container (see Sec. 2, Ch. 8, Food & Water Precautions).
Typhoid Fever
Typhoid fever is a bacterial disease caused by Salmonella typhi (see Sec. 5, Part 1, Ch. 24, Typhoid & Paratyphoid Fever). Typhoid fever vaccine generally is recommended for safari-goers. Because vaccination does not confer 100% protection, however, even vaccinated travelers should avoid consumption of potentially contaminated food and water.
Respiratory Infections & Diseases
Respiratory illnesses (e.g., COVID-19, influenza, tuberculosis [TB]) can spread between people and from people to the wildlife they encounter.
Coronavirus Disease 2019
In zoos and animal sanctuaries, big cats (cougars, lions, pumas, tigers, snow leopards) and mountain gorillas have tested positive for severe acute respiratory syndrome coronavirus 2 (SARS-CoV-2), the virus that causes COVID-19. Special operating procedures are in now place to protect wildlife and travelers; these include mandatory COVID-19 testing, limited group capacity, and required mask use to enter Volcanoes National Park and other gorilla parks; several game parks, including Kruger National Park in South Africa, also require entrants to provide a negative COVID-19 test result before permitting entry. Travelers should check with tour operators and park websites ahead of travel for up-to-date requirements, and follow park requirements to help keep both wildlife and people safe and healthy.
Advise travelers to closely adhere to all international travel guidance for COVID-19 testing, vaccination, and quarantine, including countries transited through and upon return to the United States. For current information on COVID-19 at their destination(s), travelers to Africa should consult the US Embassy website. See the US government's COVID-19 international travel requirements and recommendations. All travelers going to Africa should be up to date with their COVID-19 vaccines.
Influenza & Tuberculosis
While on safari, when trekking, or when visiting local communities, travelers can potentially encounter livestock species susceptible to influenza (e.g., chickens, pigs, waterfowl) and TB (e.g., cows).
Chimpanzees, gorillas, and other wildlife also are susceptible to influenza virus and Mycobacterium tuberculosis infection. Responsible tourism requires ill people to refrain from wildlife trekking or other activities that involve close contact with wildlife.
Soil- & Waterborne Infections
Schistosomiasis
Freshwater lakes, ponds, and rivers all pose a risk for exposure to Schistosoma species, a parasite found in freshwater snails (see Sec. 5, Part 3, Ch. 20, Schistosomiasis). Travelers should consider all freshwater sources to be contaminated and avoid bathing, swimming, wading, or other freshwater contact in disease-endemic countries. River trips (e.g., Nile River white-water rafting) present a risk for schistosomiasis (bilharzia). Swimming in the ocean or well-chlorinated pools is not a risk for schistosomiasis.
Vectorborne Diseases
Travelers should take steps to avoid arthropod bites to reduce their risk for vectorborne infections (for detailed recommendations, see Sec. 4, Ch. 6, Mosquitoes, Ticks & Other Arthropods).
Chikungunya, Dengue, Zika
Chikungunya, dengue, and Zika are arboviruses transmitted by Aedes species mosquitoes in game parks throughout Africa (for details on each of these diseases, see the relevant chapters in Section 5). Aedes mosquitoes are aggressive daytime biters, but also bite at night.
Malaria
Malaria is endemic in sub-Saharan Africa, and transmission occurs in most game parks. Most infections are caused by Plasmodium falciparum. All P. falciparum in sub-Saharan Africa is considered chloroquine-resistant. Safari activities often include sleeping in tents and observing animals at dusk or after dark, sometimes near water holes, all of which increase the risk for exposure to malaria-carrying Anopheles mosquitoes. Appropriate malaria chemoprophylaxis and personal protection—wearing long-sleeved shirts and pants, using insect repellents, and sleeping under permethrin-impregnated mosquito netting—are essential (see Sec. 2, Ch. 5, Yellow Fever Vaccine & Malaria Prevention Information, by Country, and Sec. 5, Part 3, Ch. 16, Malaria).
Rickettsial Diseases
African tick-bite fever (ATBF) is endemic to much of sub-Saharan Africa; among returning travelers, it is the most commonly diagnosed rickettsial disease (see Sec. 5, Part 1, Ch. 18, Rickettsial Diseases). Travel-associated cases of ATBF often occur in clusters of people exposed while participating in common activities (e.g., bush hiking, game hunting, safari tours). Travelers can protect themselves from infection by taking precautions to prevent tick bites.
Trypanosomiasis
Day-biting tsetse flies (Glossina species) transmit African trypanosomiasis (sleeping sickness), a disease only rarely seen in travelers (see Sec. 5, Part 3, Ch. 24, African Trypanosomiasis). Several reports document trypanosomiasis in travelers returning from visits to national parks or game reserves, including Kenya's Maasai Mara National Reserve. Advise travelers that neutral-colored clothing seems to deter the flies, and that permethrin-impregnated clothing and insect repellant can reduce fly bites.
West Nile
West Nile virus is an arbovirus transmitted by Culex species mosquitoes that are typically more active at dusk and dawn.
Yellow Fever
Travelers going on an African safari should consult a travel medicine professional for the very latest information regarding yellow fever at their destination. Currently, the World Health Organization and the Centers for Disease Control and Prevention recommend yellow fever vaccination for much of sub-Saharan Africa (see Sec. 2, Ch. 5, Yellow Fever Vaccine & Malaria Prevention Information, by Country, and Sec. 5, Part 2, Ch. 26, Yellow Fever).
Some countries require proof of yellow fever vaccination in the form of a valid International Certificate of Vaccination or Prophylaxis (ICVP), also known as the yellow card, as a condition of entry. Moreover, some safaris cross international borders to include ≥1 country. Assist travelers by checking the requirements for each country on their itinerary, including countries they only transit through on the way to their destination.
Viral Hemorrhagic Fevers
Crimean-Congo hemorrhagic fever (CCHF), Ebola virus disease (EVD), Lassa fever, Marburg virus disease (MVD), and Rift Valley fever (RVF) are viral hemorrhagic fevers (VHFs) found in and around some game parks in sub-Saharan Africa. Although travelers are rarely affected, zoonotic exposure to VHFs can occur through direct contact with wildlife (e.g., bats, nonhuman primates, rodents), insect (e.g., mosquito) or tick bites, and contact with blood or body fluid of livestock (see Sec. 5, Part 2, Ch. 25, Viral Hemorrhagic Fevers).
Travelers who touch or come into proximity of bats (e.g., spelunking, visiting bat caves) are at greatest risk for Ebola virus or Marburg virus exposure. Four confirmed cases of MVD occurred in travelers visiting Kitum Cave in Kenya and Python Cave in Maramagambo Forest, Uganda. Caution travelers against visiting locations where VHF outbreaks are occurring, to avoid contact with bats and rodents, and to avoid blood or body fluids of livestock or animal carcasses.
Environmental Hazards & Risks
Animal Bites & Wildlife-Related Injuries
Wild animals are unpredictable. Travelers should follow verbal and written instructions provided by safari operators and guides and should take extra precautions if camping or traveling without a guide in a national park. Wildlife-related injuries usually occur when travelers disregard rules (e.g., when they approach animals too closely to feed or photograph them). People should never try to feed, handle, or pet unfamiliar animals, whether domestic or wild. If bitten or scratched by a monkey, travelers should be evaluated for B virus postexposure prophylaxis (see Sec. 5, Part 2, Ch. 1, B Virus).
Rabies exists throughout Africa; dogs and bats are the primary animal reservoirs (see Sec. 5, Part 2, Ch. 18, Rabies). The estimated rate of rabies exposures in travelers ranges from 16–200 per 100,000 travelers globally. Warn travelers not to enter caves where bats roost and shelter. Advise travelers to consult a physician for rabies postexposure prophylaxis in case of animal bites or scratches or suspected bat exposures (e.g., sleeping in a cabin or tent where bats are found).
Consider preexposure prophylaxis for people whose planned activities will increase their chances of direct animal encounters (e.g., adventure travelers, animal sanctuary visitors, campers, cave explorers [spelunkers], participants in veterinary care or wildlife management programs). Additional considerations for preexposure prophylaxis might include whether rabies immunoglobulin (RIG) and rabies vaccination are available in the visited country in case of exposure.
Climate & Sun Exposure
Some parks are located at higher elevations and closer to the equator, making proper sun precautions imperative for avoiding sunburn, heat exhaustion, heat stroke, and dehydration. Advise travelers to seek shade, when possible, to avoid the sun during midday hours, and to carry water. In addition, advise travelers to wear sunglasses, protective clothing, and hats, and to use a broad-spectrum (protects against both ultraviolet A and ultraviolet B) sunscreen, SPF ≥15. Recommend travelers bring sunscreen and sunburn remedies with them, because selection can be limited and expensive once in country (see Sec. 4, Ch. 1, Sun Exposure).
Natural Disasters
Natural disasters (e.g., earthquakes, flooding, landslides, volcanic eruptions) have all occurred and affected international travelers in recent years. During the rainy season, floods and landslides can be more common. Safari-goers should expect sudden road closures, plan alternative routes, and take precautions during storms. Dust storms might occur during the dry season. Poor air quality can exacerbate asthma or other lung diseases. Encourage all travelers to enroll in the US Department of State's Smart Traveler Enrollment Program to receive up-to-date information in the event of a disaster.
Safety & Security
Crime
Within the game parks, crime is unusual; robberies and car-jackings are more common in urban areas (see Sec. 4, Ch. 11, Safety & Security Overseas). Travelers should check with the US Department of State's Bureau of Consular Affairs ahead of travel to learn more about safety and security risks before traveling.
Traffic-Related Injuries
In sub-Saharan African countries, the rates of fatal motor vehicle crashes are among the highest in the world. Travelers should fasten seat belts when riding in motor vehicles, and wear a helmet when riding bicycles or motorbikes (see Sec. 8, Ch. 5, Road & Traffic Safety). Within game parks, serious motor vehicle crashes are rare because poor road conditions generally discourage speeding. Travel in rural areas between parks is high risk, however, especially after dark. If possible, travelers should avoid nighttime driving in sub-Saharan Africa, and pedestrians should take extra care to watch for speeding vehicles. Travelers should avoid boarding overcrowded buses, and avoid driving or riding on motorcycles and motorbikes.
Availability & Quality of Medical Care
Travelers should work with their primary care provider to ensure any underlying illnesses are managed before travel. Before leaving the United States, each traveler also should be certain they have international health insurance coverage; and because surgical support or other advanced health care might not be available in the destination country, encourage travelers to purchase an additional medical evacuation insurance policy (see Sec. 6, Ch. 1, Travel Insurance, Travel Health Insurance & Medical Evacuation Insurance, and Sec. 6, Ch. 2, Obtaining Health Care Abroad).
Recommend travelers carry a personal medical kit with sufficient medication to treat allergies, chronic conditions, routine health needs, and emergencies (see Sec. 2, Ch. 10, Travel Health Kits). Warn travelers with food allergies that food labels might not reliably indicate potential allergens, and that lack of emergency services and language barriers can compound the risk for any severe allergic reaction that requires emergency medical care (see Sec. 3, Ch. 4, Highly Allergic Travelers). Prescribe an epinephrine autoinjector for highly allergic travelers. Options for feminine hygiene products can be limited on safari—advise travelers to pack an adequate supply.
Symptoms of many diseases acquired in Africa can surface weeks and occasionally months after exposure, sometimes long after the traveler has returned home. Obtain a travel history from all patients presenting for care.
The following authors contributed to the previous version of this chapter: Karl Neumann
Angelo KM, Libman M, Caumes E, Hamer DH, Kain KC, Leder K, et al. Malaria after international travel: a GeoSentinel analysis, 2003–2016. Malar J. 2017;16(1):293.
Clerinx J, Van Gompel A. Schistosomiasis in travellers and migrants. Travel Med Infect Dis. 2011;9(1):6–24.
Cornel AJ, Lee Y, Almeida A, Johnson T, Mouatcho J, Ventner M, et al. Mosquito community composition in South Africa and some neighboring countries. Parasit Vectors. 2018;11(1):331.
Jensenius M, Fournier P, Kelly P, Myrvang B, Racoult D. African tick bite fever. Lancet Infect Dis. 2003;3(9):557–64.
Kading RC, Borland EM, Cranfield M, Powers AM. Prevalence of antibodies to alphaviruses and flaviviruses in free-ranging game animals and nonhuman primates in the greater Congo Basin. J Wildl Dis. 2013;49(3):587–99.
Lankau EW, Montgomery JM, Tack DM, Obonyo M, Kadivane S, Blanton JD, et al. Exposure of US travelers to rabid zebra, Kenya, 2011. Emerg Infect Dis. 2012;18(7):1202–4.
Macfie EJ, Williamson EA. Best practice guidelines for great ape tourism. Gland, Switzerland: International Union for Conservation of Nature and Natural Resources, Species Survival Commissioner Primate Specialist Group (PSG); 2010. Available from: https://portals.iucn.org/library/sites/library/files/documents/ssc-op-038.pdf.
Makhulu EE, Villinger J, Adunga VO, Jeneby MM, Kimathi EM, Mararo E, et al. Tsetse blood-meal sources, endosymbionts and trypanosome-associations in the Maasai Mara National Reserve, a wildlife-human-livestock interface. PLoS Negl Trop Dis. 2021;15(1):e0008267.
Morgan OW, Brunette G, Kapella BK, McAuliffe I, Katongole-Mbidde E, Li W, et al. Schistosomiasis among recreational users of upper Nile River, Uganda, 2007. Emerg Infect Dis. 2010;(16)5:866–8.
World Health Organization. Vaccines and vaccination against yellow fever. WHO position paper—June 2013. Wkly Epidemiol Rec. 2013;88(27):269–83.
---
Page last reviewed:
May 01, 2023