Podcasts
Past Podcasts
Volume 7-2001 and Volume 5-1999 are links to podcasts recorded in 2015 about articles that appeared in EID during those years. Volume 12-2006 is a link to a podcast recorded in 2018.
Volume 28—2022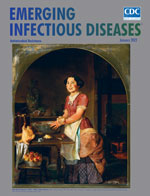 Volume 28, Number 1—January 2022
Salmonella in Thanksgiving Turkey, 1998-2018
Listen Now or Download MP3
Length: 16:32
Dr. Farrell Tobolowsky, a CDC FLIGHT fellow in Atlanta, and Sarah Gregory discuss
Salmonella
serotypes associated with illness after the Thanksgiving holiday.
Download Transcript
[PDF - 233KB - 6 pages]
View full-text article:
Salmonella Serotypes Associated with Illnesses after Thanksgiving Holiday, United States, 1998–2018