Nepal
CDC Yellow Book 2024
Popular Itineraries
---
Destination Overview
Home to >29 million people, Nepal stretches for 805 km (500 mi) along the Himalayan mountains that form its natural border with China (see Map 10-13). The topography rises from low plains at 70 m (≈230 ft) elevation to the highest point in the world at 8,848 m (≈29,029 ft), the summit of Mount Everest. Kathmandu, the capital city with a population of >2 million people, sits in a lush valley at 1,324 m (≈4,344 ft) elevation.
Nepal's latitude of 28°N (the same as Florida) means that its non-mountainous areas are temperate year-round. Most annual rainfall comes during the monsoon season (June–September). The main tourist seasons are the spring (March–May) and fall (October–November). The winter months, December–February, are pleasant in the lowlands but can be too cold to make trekking enjoyable in the high mountains.
Approximately 30% of travelers to Nepal go to trek into the mountains; others go to experience the country's culture and stunning natural beauty. Lumbini, in the Terai region, is the birthplace of the Buddha and has become an increasingly popular and beautifully developed pilgrimage destination for Buddhists from around the world. In recent years, trekkers have begun traveling to the Manaslu area, which offers a hiking experience featuring less-developed lodges and extended time away from roads. Notable in this area is the Nubri Valley, which also has many sacred Buddhist sites.
In addition to trekking, Nepal has some of the best rafting and kayaking rivers in the world. Jungle lodges in Chitwan National Park allow visitors to see a wide range of wildlife, including crocodiles, rhinoceros, tigers, and a huge variety of exotic birds. Less adventurous travelers can drive to comfortable hotels offering commanding views of the Himalayas, both near Kathmandu and near Pokhara. The airport near Lumbini is being upgraded to an international airport. Pokhara airport also is scheduled to become an international airport in the future, giving visitors more options for traveling in and out of Nepal.
Map 10-13 Nepal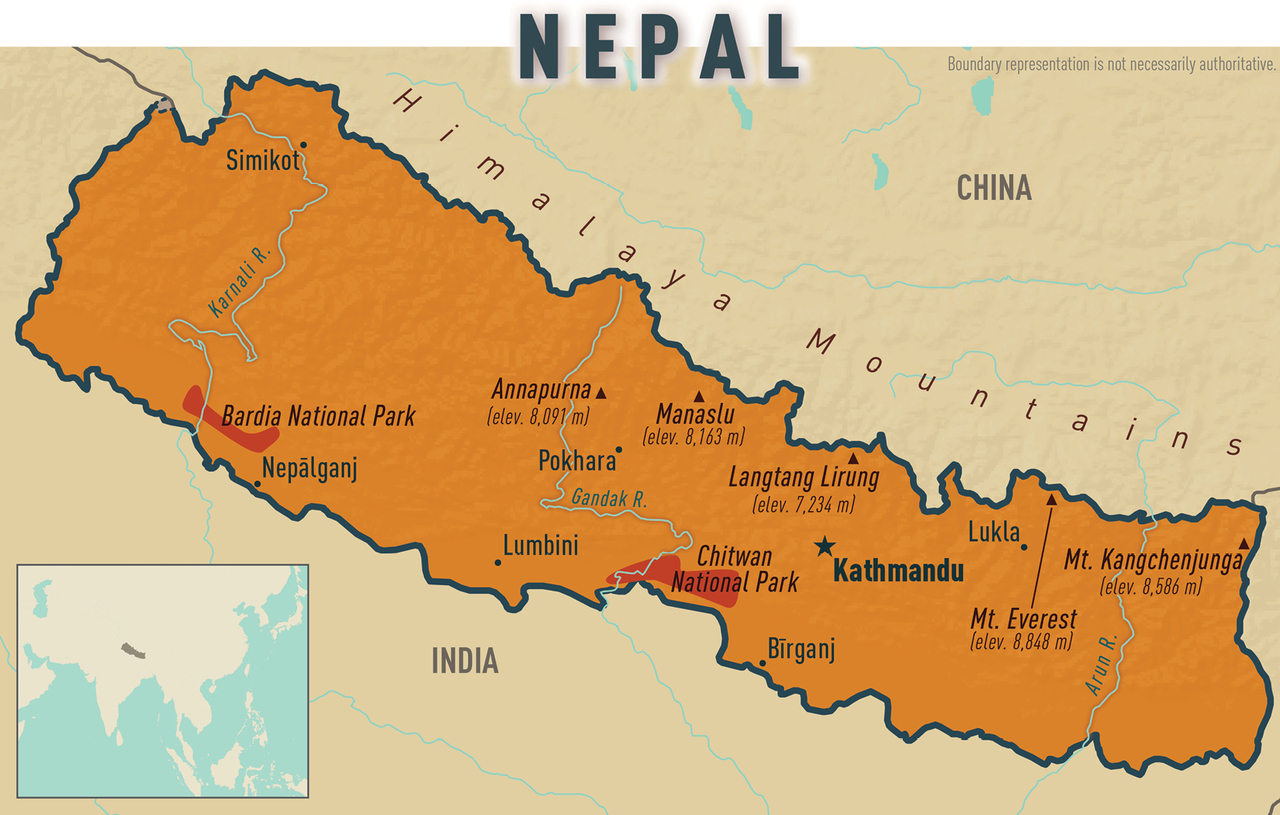 Infectious Disease Risks
Enteric Infections & Diseases
Travelers to Nepal are at high risk for enteric diseases. Hepatitis A vaccine and typhoid vaccine are the 2 most important pretravel immunizations. The risk for typhoid fever and paratyphoid fever among visitors to Nepal is among the highest in the world, and the prevalence of fluoroquinolone resistance also is high (see Sec. 5, Part 1, Ch. 24, Typhoid & Paratyphoid Fever). Tap water in Nepal is not considered safe for drinking, and travelers should only drink boiled or bottled water (see Sec. 2, Ch. 8, Food & Water Precautions, and Sec. 2, Ch. 9, Water Disinfection).
Cyclosporiasis
Cyclospora cayetanensis, an intestinal protozoal pathogen, is highly endemic to Nepal (see Sec. 5, Part 3, Ch. 5, Cyclosporiasis). Risk for infection is distinctly seasonal; transmission occurs almost exclusively during May–October, with a peak in June and July. Because transmission occurs outside the main tourist seasons, cyclosporiasis primarily effects expatriates who stay through the monsoon. In addition to watery diarrhea, profound anorexia and fatigue are the hallmark symptoms of Cyclospora infection. The treatment of choice is trimethoprim-sulfamethoxazole; no highly effective alternatives have been identified.
Hepatitis E
Hepatitis E virus is endemic in Nepal, and several cases each year are diagnosed in visitors or expatriates. No vaccine against hepatitis E is commercially available; travelers should follow safe food and water precautions (see Sec. 5, Part 2, Ch. 10, Hepatitis E).
Travelers' Diarrhea
Travelers' diarrhea is a risk, and the risk during the spring trekking season (March–May) is double that of the fall trekking season (October–November). Because many visitors head to remote areas that do not have available medical care, provide travelers with medications for self-treatment (see Sec. 2, Ch. 6, Travelers' Diarrhea). Extensive resistance to fluoroquinolones has been documented among bacterial diarrheal pathogens in Nepal.
Respiratory Infections & Diseases
Respiratory illnesses among travelers are common, both in Kathmandu and on trekking routes. The advent of coronavirus disease 2019 (COVID-19) makes it more difficult to assume the etiology of a respiratory infection. Prolonged symptoms beyond 7–10 days often requires a medical assessment.
Coronavirus Disease 2019
For current information on COVID-19 in Nepal, consult the US Embassy in Nepal website. See the US government's COVID-19 international travel requirements and recommendations. All travelers going to Nepal should be up to date with their COVID-19 vaccines.
Influenza
Influenza is a risk in Nepal, particularly in crowded teahouses at higher elevations. Trekkers should receive a current influenza immunization before travel.
Tuberculosis
Tuberculosis (TB) disease that exists among local people can be due to drug-resistant strains of Mycobacterium tuberculosis. Both multidrug-resistant and extensively–drug resistant TB have been reported in Nepal. Overall, however, risk to travelers is low.
Vectorborne Diseases
Dengue
In 2019, the Ministry of Health in Nepal reported ≈18,000 cases of dengue, and in 2022, >46,000 cases. Counsel all travelers going to Nepal during the warmer, wetter months to pack an Environmental Protection Agency–registered insect repellent in their travel health kit and to practice insect bite precautions (see Sec. 4, Ch. 6, Mosquitoes, Ticks & Other Arthropods).
Japanese Encephalitis
Japanese encephalitis (JE) is endemic to Nepal; the greatest disease risk is in the Terai region during and immediately after monsoon season (June–October). JE has been identified in local residents of the Kathmandu Valley, but only 1 case of JE acquired in Nepal has been reported in a foreign traveler, a tourist who spent time in the Terai region in August. JE vaccine is not routinely recommended for people trekking to higher elevation areas or spending short periods in Kathmandu or Pokhara en route to such treks. JE vaccine is recommended for expatriates living in Nepal (see Sec. 5, Part 2, Ch. 13, Japanese Encephalitis).
Malaria
Although targeted for complete elimination of malaria by 2020, Nepal continues to report low (and decreasing) numbers of indigenous cases, primarily Plasmodium vivax. No malaria transmission occurs in Kathmandu or Pokhara, and all the main Himalayan trekking routes are free of malaria, but documented transmission persists in some areas of the country. For this reason (and until malaria is eliminated from Nepal), the Centers for Disease Control and Prevention continues to recommend chemoprophylaxis for travelers visiting destinations below 2,000 m (≈6,500 ft) elevation.
Environmental Hazards & Risks
Air Quality
Air pollution problems in the Kathmandu valley are frequent. People with underlying cardiorespiratory illness, including asthma, chronic obstructive pulmonary disease, or congestive heart failure can suffer exacerbations in Kathmandu, particularly after a viral upper respiratory infection. Short-term exposure to these levels of air pollution can irritate the eyes and throat. In addition, exposure to high levels of air pollution greatly increases the risk for both upper and lower respiratory tract infections, including otitis, sinusitis, bronchitis, and pneumonia (see Sec. 4, Ch. 3, Air Quality & Ionizing Radiation). Children and older people are the most vulnerable.
Altitude Illness & Acute Mountain Sickness
The destinations for most trekkers are the Annapurna region west of Kathmandu, the Langtang trekking area north of Kathmandu, and the Mount Everest region east of Kathmandu. In the Annapurna region, short-term trekkers can choose to hike to viewpoints in the foothills without reaching any high elevations. Others can undertake a longer trek around the Annapurna massif, going over a 5,416 m (≈17,769 ft) pass, the Thorung La.
The highest point in the Langtang region (the summit of Langtang Lirung) is 7,245 m (23,770 ft); overall, however, high-elevation exposure in Langtang National Park is generally less than in the Everest region. By contrast, trekkers in the Mount Everest region routinely sleep at elevations of 4,267–4,876 m (≈14,000–16,000 ft) and hike to elevations >5,486 m (≈18,000 ft). This prolonged exposure to very high elevations means that travelers must be knowledgeable about the risk for altitude illness and might need to carry specific medications to prevent and treat the problem (see Sec. 4, Ch. 5, High Elevation Travel & Altitude Illness).
Most trekkers in the Mount Everest region arrive by flying to a tiny airstrip at Lukla at 2,860 m (≈9,383 ft) elevation; they then reach Namche Bazaar at 3,440 m (≈11,286 ft) elevation the next day. Acetazolamide prophylaxis can substantially decrease the chances of developing acute mountain sickness in Namche.
Animal Bites & Rabies
Rabies is highly endemic among the dogs in Nepal, but in recent years Kathmandu has had fewer stray dogs. Half of all traveler exposures to a possibly rabid animal occur near Swayambunath, a beautiful hilltop shrine also known as the monkey temple. Advise travelers to be extra cautious with dogs and monkeys in this area. Monkeys can be aggressive if approached, and will jump on a person's back if they smell food in a backpack. Clinics in Kathmandu that specialize in the care of foreign travelers almost always have complete postexposure rabies prophylaxis, including human rabies immune globulin. Private helicopter companies in Nepal provide rescue; thus, most people can return to Kathmandu from a trek within 1–2 days. Even in the absence of helicopter rescue, trekkers bitten in the mountains have been able to return to Kathmandu in an average of 5 days.
Natural Disasters
In April 2015, a major earthquake in Nepal caused extensive damage and killed >9,000 people. Most of the damage occurred in non-tourist areas and the infrastructure for tourism has largely been repaired. The Langtang trekking area, north of Kathmandu, was virtually destroyed by a landslide triggered by the earthquake; since then, many services have been rebuilt, and tourism is returning to the area.
Large glacial lakes formed by melting glaciers can fail massively and cause intense downstream destructive flooding. Sudden snowstorms have occasionally occurred during trekking seasons, resulting in some deaths and numerous stranded trekkers. Ordinarily, though, the weather during the trekking seasons is mild.
Safety & Security
Road Construction Issues
In recent years, Nepal has seen a frenzy of motorable road construction. Once the most roadless country in the world, much of Nepal is now connected by roads that vary in quality from well-constructed and maintained to terrifying. Hasty planning and construction have resulted in many road washouts and landslides, especially during the heavy rains of the monsoon, and road travel in general is an uncomfortable experience.
Motor roads have been constructed up the 2 major valleys of the Around-Annapurna Trek, shortening the trip from 21 to 5 days for people traveling by vehicle. In many cases, traditional trekking trails are no longer being maintained or have been subsumed by the road, substantially changing the nature of the experience and leading trekkers to seek out the few remaining roadless areas for a more traditional hiking experience. Encourage trekkers to inquire about road construction in areas where they intend to hike, because many have found that hiking on dusty or muddy roads, alongside buses, jeeps, and motorcycles, is not the experience they were anticipating.
Availability & Quality of Medical Care
Contact information for 2 clinics in Kathmandu specializing in the care of foreign travelers in Nepal is available on the International Society of Travel Medicine website. Hospital facilities have improved steadily over the years, and general and orthopedic emergency surgery are available and reliable in Kathmandu. Acute cardiac care also is available, including the placement of coronary artery stents. Modern hospitals tend to compete for foreign patients, and travelers should carry the names of reliable clinics and hospitals so they can request the hospital of their choice. Occasionally, patients are taken to an alternative hospital without their consent; when reaching a hospital, patients or their companions should ascertain whether they are indeed in the hospital they requested. Medical evacuation points providing definitive care outside of Nepal include locations in India and in Thailand.
Medical Evacuation
Helicopter evacuation from most areas is readily available. Communication has improved from remote areas because of satellite and cellular telephones, and private helicopter companies accept credit cards and are eager to perform evacuations for profit. Evacuation can often take place on the same day as the request, weather permitting. Helicopter rescue is usually limited to morning hours because of afternoon winds in the mountains. Helicopter rescue is billed at ≈$4,000 per hour, with an average total cost of $8,000–$10,000 US. Evacuation insurance policies generally require that rescues be arranged through the insurance provider; if not, the cost of the rescue will be borne by the traveler. Because of ready access to helicopter evacuation, trekkers have sometimes requested rescues for trivial conditions. Due to the potential for abuse of unnecessary helicopter rescue, some international evacuation insurance companies no longer provide coverage for Nepal or impose an additional surcharge for coverage there.
The following authors contributed to the previous version of this chapter: David R. Shlim
Cave W, Pandey P, Osrin D, Shlim DR. Chemoprophylaxis use and the risk of malaria in travelers to Nepal. J Travel Med. 2003;10(2):100–5.
Government of Nepal, Ministry of Health and Population, Department of Health Services, Epidemiology and Disease Control Division. Situation update of dengue 2022. Available from: http://edcd.gov.np/news/download/situation-update-of-dengue-2022.
Hoge CW, Shlim DR, Echeverria P, Rajah R, Herrmann JE, Cross JH. Epidemiology of diarrhea among expatriate residents living in a highly endemic environment. JAMA. 1996;275(7):533–8.
Murphy H, Bodhidatta L, Sornsakrin S, Khadka B, Pokhrel A, Shakya S, et al. Traveler's diarrhea in Nepal—changes in etiology and antimicrobial resistance. J Travel Med. 2019;26(8):taz054.
Pandey P, Lee K, Amatya B, Angelo KM, Shlim DR, Murphy H. Health problems in travellers to Nepal visiting CIWEC clinic in Kathmandu—a GeoSentinel analysis. Travel Med Infect Dis. 2021;40:101999.
Schwartz E, Shlim DR, Eaton M, Jenks N, Houston R. The effect of oral and parenteral typhoid vaccination on the rate of infection with Salmonella typhi and Salmonella paratyphi A among foreigners in Nepal. Arch Intern Med. 1990;150(2):349–51.
---
Page last reviewed:
May 01, 2023