Haiti
CDC Yellow Book 2024
Popular Itineraries
---
Destination Overview
The Republic of Haiti is a country located on the island of Hispaniola in the Greater Antilles archipelago of the Caribbean Sea (see Map 10-08). The shared border between Haiti and the Dominican Republic is porous; migrant workers move readily between the 2 countries, and cultural influences are shared. North America and France have large Haitian diaspora communities. Travelers visiting friends and relatives (VFR) make up a large proportion of visitors to Haiti each year. Other reasons people come to Haiti include foreign diplomacy, international business, missionary and humanitarian aid work, and tourism.
Port-au-Prince, Haiti's capital, is often the main entry point for international arrivals. Haiti has many tourist destinations, including a popular cruise ship destination in Labadie (Port Labadee), which has white sand beaches and scenery that attract visitors year-round. Historical architecture sites (e.g., Cathédrale Notre-Dame in the city of Cap-Haïtien; Citadelle Laferrière, reputedly the largest fortress in the Americas and a UNESCO World Heritage Site, located on top of mountain Bonnet à l'Evèque) are popular tourist destinations. The annual Haitian Carnival, which takes place in February or March, draws crowds from around the world. Haiti has strong economic and social ties with international organizations; as such, business travelers, foreign diplomats, humanitarian aid workers, and missionaries often visit Haiti.
Travelers can find various types of accommodations in Haiti, ranging from dormitory-style to bed-and-breakfast inns to house rentals and upscale hotels in major cities. Most accommodations include internet, but signal and reliability are often poor due to interruptions of services within the country.
Map 10-08 Haiti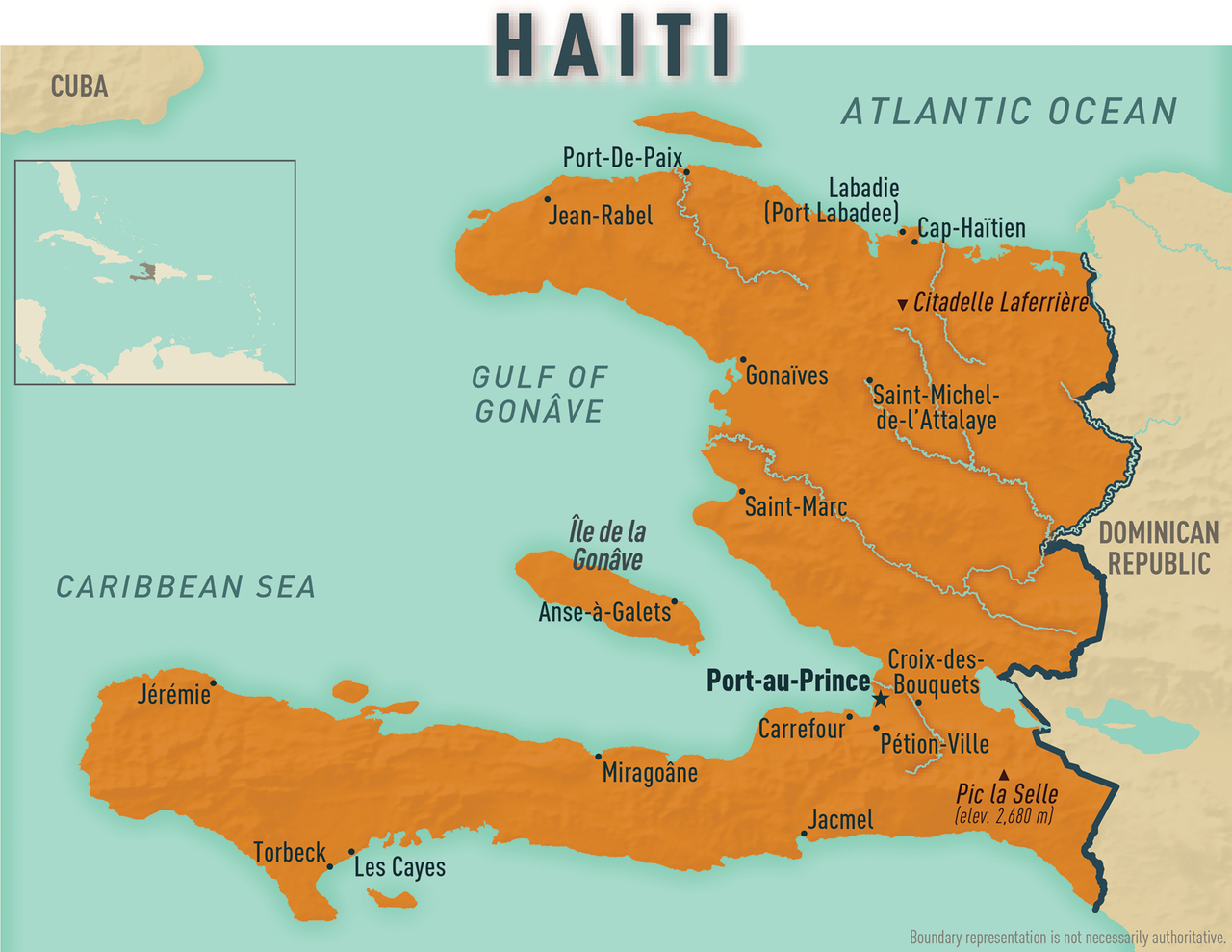 Infectious Disease Risks
Environmental degradation has contributed to Haiti's poor sanitation and water quality. As a result, multiple public health risks exist for Haitians and for travelers to Haiti. Anyone traveling to Haiti should be up to date on routine vaccinations, including diphtheria (cases have increased in recent years) and tetanus boosters, seasonal influenza, and measles. Although measles has been eliminated in Haiti, the risk for reintroduction is ever-present.
Enteric Infections & Diseases
Cholera
As of February 2021, the cholera outbreak that started after the 2010 earthquake had caused 820,555 suspected cases of illness and 9,792 deaths. The epidemic curve peaked in 2011, with declining incidence and mortality rates annually due to improved access to clean water and sanitation and the efforts of cholera treatment centers. In 2019, 9 years after the outbreak started, Haiti reported 720 suspected cholera cases and only 3 deaths. In October 2022, after 3 years of no reports of culture-confirmed cholera, Haiti's National Public Health Laboratory identified new cases of culture-confirmed disease and was investigating additional suspect cases.
Despite declining cases, cholera remains a persistent public health threat in Haiti. Oral cholera vaccine has been implemented as part of a complementary set of ongoing control measures that include improved diarrheal disease surveillance and enhanced laboratory capacity. Travelers should adhere to food and water precautions, and—depending on their planned itinerary—consider cholera vaccine (see Sec. 5, Part 1, Ch. 5, Cholera). For current recommendations, see the Centers for Disease Control and Prevention (CDC) Travelers' Health destination page for Haiti.
Travelers' Diarrhea
Visitors to Haiti are at high risk for travelers' diarrhea (TD). Travelers who want to experience the local flavorful cuisine (e.g., griot [seasoned fried pork], plantains, rice with red beans, and a variety of fish and shellfish, including conch), should select food and beverages with care (see Sec. 2, Ch. 6, Travelers' Diarrhea, and Sec. 2, Ch. 8, Food & Water Precautions).
Typhoid Fever
Without prompt treatment, Salmonella enterica serotype Typhi infection can cause serious morbidity and mortality (Sec. 5, Part 1, Ch. 24, Typhoid & Paratyphoid Fever). On average, Haiti's Ministry of Health reports 1,200 suspected cases weekly throughout the country. Although the true extent of typhoid infection in Haiti is not fully known, cases are reported regularly in all 10 departments. Due to major public health infrastructure investments (sanitation, access to safe drinking water) made in response to the cholera outbreak, the number of typhoid fever cases has been decreasing, but disease transmission remains active. Urge all travelers to adhere to strict food and water precautions, and—depending on their planned itinerary—to consider receiving typhoid fever vaccine.
Respiratory Infections & Diseases
Coronavirus Disease 2019
For current information on coronavirus disease 2019 (COVID-19) in Haiti, consult the US Embassy in Haiti website. See the US government's COVID-19 international travel requirements and recommendations. All travelers going to Haiti should be up to date with their COVID-19 vaccines.
Tuberculosis
Tuberculosis (TB) is more prevalent in Haiti than in neighboring countries. Using appropriate and effective strategies, the Programme National de Lutte contre la Tuberculose (PNLT) has been able to improve case detection and treatment throughout the country. Short-term travelers are not at high risk of tuberculosis unless they are residing or spending extended time in specific crowded environments (e.g., shared room hostels, prisons).
Sexually Transmitted Infections & HIV
Support from the international community over the past 20 years has helped stabilize the prevalence of HIV in Haiti; the estimated prevalence is 2% among adults aged >15 years. Among people 15–24 years age of age, infection is disproportionately greater among women than men (2.3% vs. 1.6%). As of December 2020, 85% of people living with HIV were aware of their diagnosis, 83% of those diagnosed were receiving antiretroviral therapy, and 72% have an undetectable viral load. Preexposure prophylaxis is available at all regional hospitals throughout the country and at several high-volume health centers. Condoms can be easily purchased at local pharmacies and grocery stores, although quality cannot be guaranteed.
Soil- & Waterborne Infections
Helminths
Although the prevalence of helminthiasis is diminishing in Haiti, intestinal parasites represent a potential concern for travelers, emphasizing the need for strict adherence to food and water precautions (see Sec. 5, Part 3, Ch. 13, Soil-Transmitted Helminths).
Vectorborne Diseases
Vectorborne diseases, both viral and parasitic, are common in Haiti and include dengue and Plasmodium falciparum malaria. Travelers to Haiti should take measures to protect themselves from mosquito bites (see Sec. 4, Ch. 6, Mosquitoes, Ticks & Other Arthropods).
Arboviruses: Chikungunya, Dengue & Zika
In 2021, ongoing dengue surveillance in Haiti confirmed 18 cases out of >5,000 specimens tested through October of that year. Seroprevalence studies conducted in 2017 found ≈72% of Haitians had been exposed to dengue, confirming the results of a previous study conducted in 2012. Advise longer-term travelers to Haiti to select accommodations with air conditioning or well-screened windows and doors; to wear clothes that cover the arms and legs; and to use insect repellent. No confirmed cases of chikungunya or Zika have been documented in Haiti since June 2014.
Lymphatic Filariasis
Haiti actively participates in the global program to eliminate lymphatic filariasis (LF). LF is considered endemic to Hispaniola, including many parts of Haiti. As of 2020, several areas of the country, including Port-au-Prince, still require annual mass treatment campaigns aimed at reducing parasite transmission. Prevention involves adherence to insect bite precautions (see Sec. 5, Part 3, Ch. 9, Lymphatic Filariasis).
Malaria
Chloroquine-sensitive P. falciparum malaria is endemic to Haiti (see Sec. 2, Ch. 5, Yellow Fever Vaccine and Malaria Prevention Information, by Country). The incidence of malaria has been decreasing since 2016; current incidence is ≈70 cases per 100,000 people, annually. The highest transmission rates are reported to occur after the rainy seasons, March–May and October–November. Malaria is a localized infection in Haiti and is reported primarily from the Southern region. Nevertheless, CDC recommends that all travelers to Haiti, regardless of itinerary, take malaria chemoprophylaxis (see Sec. 5, Part 3, Ch. 16, Malaria).
Environmental Hazards & Risks
Animal Bites & Rabies
Haiti is more affected by rabies than any other nation in the Americas. Prevention efforts in the country have increased, but with a high number of stray dogs, the number of cases of human rabies is not yet clearly defined. Preexposure rabies vaccination is recommended for travelers anticipating contact with animals. Travelers with high-risk exposures for rabies generally require medical evacuation to the United States to receive definitive care and management, including appropriate postexposure prophylaxis (see Sec 5, Part 2, Ch. 18, Rabies).
Ciguatera Fish Poisoning
Ciguatera fish poisoning commonly occurs in Haiti. Outbreaks can happen seasonally or sporadically, particularly after storms. Not all fish of a given species or from a given area will necessarily be toxic. Travelers to Haiti should avoid eating reef fish weighing >2.7 kg (6 lbs) or the filets of large fish (see Sec. 4, Ch. 10, Food Poisoning from Marine Toxins).
Climate & Sun Exposure
With some variation depending on elevation, the climate in Haiti is tropical and hot, and remains so throughout the year. Haiti has an average monthly temperature range of 77°F–84°F. Humidity is often high, and microclimates exist depending on the geographic location. Travelers should minimize sun exposure and use a broad-spectrum sunscreen (see Sec. 4, Ch. 1, Sun Exposure). Sunscreen products are not always available in local markets, however, and travelers should pack enough to last them for the duration of their travel.
Natural Disasters
Natural disasters are common in Haiti, including earthquakes, floods, hurricanes, and tropical storms. Hurricane season lasts from June–November. In 2008, Haiti experienced a series of 4 hurricanes and tropical storms within 2 months. Hurricane Matthew, the first Category 4 hurricane to hit the island since 1964, struck Haiti in October 2016; 546 people died and >120,000 were displaced. Strong winds and heavy rain caused flash floods, mudslides, river floods, crop and vegetation loss, and destruction of homes and businesses. One year later, rain and flooding from Hurricane Irma compounded the losses to Haiti's agricultural sector. These combined disasters further weakened an already fragile infrastructure.
In January 2010, Haiti experienced a 7.0 magnitude earthquake that killed >220,000 people and displaced 1.5 million people from their homes. More recently, on August 14, 2021, a magnitude 7.2 earthquake struck southwest Haiti, about 70 miles west of the capital of Port-au-Prince, killing ≈2,200 people and injuring >12,000. In addition, 28 of the 66 health facilities in the region were severely damaged or destroyed. Two days later, tropical storm Grace made landfall causing flooding and complicating relief efforts. Together, these emergencies have strained Haiti's health care system immensely.
Safety & Security
Crime
The crime rate in Haiti is high, particularly in Port-au-Prince, presenting persistent safety concerns for travelers. Although much of the violent crime is perpetrated by Haitians against Haitians, American citizens also have been victims (see Sec. 4, Ch. 11, Safety & Security Overseas). Travelers arriving on flights from the United States have been targeted for robbery and attack.
During Carnival, crime, disorderly conduct, and general congestion increase. Advise travelers to maintain awareness of their surroundings, avoid nighttime travel, keep valuables well hidden (not left in parked vehicles), and to lock all doors and windows.
Political Unrest
Political and civil unrest represents a safety concern for visitors to Haiti. Frequent and sometimes spontaneous protests occur in Port-au-Prince. Demonstrations—which travelers should avoid, when possible—can turn violent. The US Department of State's Smart Traveler Enrollment Program (STEP) electronically pushes information to travelers about safety conditions at their destination and provides direct embassy contact in case of man-made emergencies (political unrest and demonstrations, rioting, terrorist activity) or natural disasters.
Traffic-Related Injuries
Motor vehicle injuries are the most common cause of death for healthy US residents traveling abroad (see Sec. 8, Ch. 5, Road & Traffic Safety). The risk for death from road injuries in Haiti is high; the 2019 average rate was 18.77 per 100,000 population, compared with an average rate of 15.33 for the Americas region. Road conditions in Haiti differ greatly from those in the United States; roads and lanes are generally unmarked, speed limits are seldom posted or adhered to, rights of way are not observed, and animals, carts, and vendors all share the roads with motor vehicles. Some roads are unpaved or have large potholes. Lack of streetlights significantly compounds the risk of being on roads at night.
Traffic is usually chaotic and congested in urban areas. Vibrantly painted tap taps are open-air vehicles (buses or pick-up trucks), mechanically unsound, and often overloaded with passengers. Although tap taps are a common form of public transportation for Haitians, advise travelers to avoid using them because of safety concerns (crashes, kidnappings, robberies). Remind travelers to remain alert when walking, to choose safe vehicles, and to observe safety practices when operating vehicles. Travelers should fasten seat belts when riding in cars, and wear a helmet when riding bicycles or motorbikes.
Availability & Quality of Medical Care
According to the World Health Organization, delivery of primary health care services was already challenged in Haiti before the 2021 earthquake. Since then, the health care situation has become even more complicated; many facilities, primarily in the south, are unable to function because of physical damage, and medical facilities can close without notice due to social unrest.
The Haitian health care system faces multiples shortages (e.g., limited availability of essential medicines and supplies, lack of trained health professionals) and is costly. Over 40% of the population report not having used the public health care system, even in cases of serious injury or illness, principally due to the cost. Thus, access to health care, especially for medical emergencies remains a challenge in Haiti, and medical evacuation often is necessary for patients who require immediate attention. Consequently, people planning travel to Haiti should purchase travel health insurance and medical evacuation insurance (see Sec. 6, Ch. 1, Travel Insurance, Travel Health Insurance & Medical Evacuation Insurance) and bring a travel first aid kit (see Sec. 2, Ch. 10, Travel Health Kits).
The following authors contributed to the previous version of this chapter: Clive M. Brown, Lacreisha Ejike-King, J. Nadine Gracia, Dana M. Sampson
Institute for Health Metrics and Evaluation. Haiti. Available from: www.healthdata.org/haiti.
Institut Haïtien de l'Enfance (IHE) and ICF. Haiti mortality, morbidity and service utilization survey (EMMUS-VI) 2016–2017 [in French]. Pétion-Ville, (Haiti) and Rockville (MD): Institut Haïtien de l'Enfance and ICF; 2018. Available from: www.dhsprogram.com/pubs/pdf/FR326/FR326.pdf.
International Association for Medical Assistance to Travellers. Ciguatera fish poisoning. Available from: www.iamat.org/risks/ciguatera-fish-poisoning. Ministère de la Santé Publique et de la Population (MSPP). Sitrep COVID-19 08-07-21 [in French]. Available from: www.mspp.gouv.ht/page-covid-19.
National Oceanic and Atmospheric Administration. National Hurricane Center tropical cyclone report: Hurricane Matthew (AL142016). Miami: The Center; 2017. Available from: www.nhc.noaa.gov/data/tcr/AL142016_Matthew.pdf.
United Nations Development Programme (UNDP) Human Development Report Office. Human development report 2013. The rise of the South: human progress in a diverse world. New York: The Programme; 2013. Available from: http://hdr.undp.org/sites/default/files/reports/14/hdr2013_en_complete.pdf.
US Department of State. Haiti 2017 crime and safety report. Washington, DC: Bureau of Diplomatic Security, Overseas Security Advisory Council; 2017. Available from: www.osac.gov/Content/Report/fcbed0b9-1eda-45a8-b6f4-15f4ae15ebaa.
Weppelmann TA, Burne A, von Fricken ME, Elbadry MA, Beau De Rochars M, Boncy J, et al. A tale of two flaviviruses: a seroepidemiological study of dengue virus and West Nile virus transmission in the Ouest and Sud-Est Departments of Haiti. Am J Trop Med Hyg. 2017;96(1):135–40.
World Food Programme. Haiti. Available from: www.wfp.org/countries/haiti.
World Health Organization. Haiti. Available from: www.who.int/countries/hti/en.
---
Page last reviewed:
May 01, 2023